The 1987 Draft of the National Basketball Association (NBA) was held on June 22, 1987 in New York City, New York.
This draft is notable for the selection of two future members of the NBA 50 Greatest Players list, David Robinson and Scottie Pippen, and one player that just missed the list, Reggie Miller.
Other notable selections include Sacramento mayor Kevin Johnson, Kenny Smith (player and future commentator), Horace Grant, future Boston Celtics Captain Reggie Lewis, Muggsy Bogues, and Mark Jackson. Also in this draft, current Florida Gators head men's basketball coach Billy Donovan (drafted 68th by the Utah Jazz), who led that program to NCAA Division I Men's Basketball Championships in 2006 and in 2007.
Note that David Robinson did not join the NBA until the 1989-90 season due his service commitment with the United States Navy.
^
Denotes

player who has been inducted to the Basketball Hall of Fame

*
Denotes

player who has been selected for (an) All-Star Game(s)

and (an)

All-NBA Team

(s)
+
Denotes player who has been selected for (an) All-Star Game(s)
x
Denotes player who has been selected for (an) All-NBA Team(s)
Round one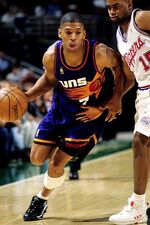 Notable post-first round picks
Pick
Player
Nationality
NBA Team
School/Club Team
26

Steve Alford

(SG)

Template:Country Flag United States

United States
Dallas Mavericks

Indiana

28

Rickie Winslow

(SF)

Template:Country Flag United States

United States
Chicago Bulls

Houston

39

Vincent Askew

(SG-SF)

Template:Country Flag United States

United States
Philadelphia 76ers

Memphis State

40

Winston Garland

(PG)

Template:Country Flag United States

United States
Milwaukee Bucks

Southwest Missouri State

45

Brad Lohaus

(PF-C)

Template:Country Flag United States

United States
Boston Celtics

Iowa

52

Donald Royal

(SF)

Template:Country Flag United States

United States
Cleveland Cavaliers

University of Notre Dame

63

Kevin Gamble

(SG)

Template:Country Flag United States

United States
Portland Trail Blazers

Iowa

68
Billy Donovan (PG)

Template:Country Flag United States

United States
Utah Jazz

Providence

75

Chris Dudley

(C)

Template:Country Flag United States

United States
San Antonio Spurs

Yale

79

Jack Haley

(C)

Template:Country Flag United States

United States
Chicago Bulls

UCLA

90

Theofanis Christodoulou

(PF)

Template:GRE

Atlanta Hawks

Panionios

(

Greece

)
100

Ronnie Grandison

(SF)

Template:Country Flag United States

United States
Denver Nuggets
New Orleans
127
Sarunas Marciulionis (SG)

Template:URS


(

Template:LTU

)
Golden State Warriors

Statyba Vilnius

(

USSR

)
Notable undrafted players