The 1998 NBA Draft took place on June 24, 1998 at General Motors Place in Vancouver, British Columbia, Canada.
This draft helped turn around three struggling franchises: the Dallas Mavericks, the Sacramento Kings, and the Toronto Raptors.
The Mavericks, despite having a talented nucleus of Jason Kidd, Jamal Mashburn and Jim Jackson in the mid 1990s, had not had a winning season since 1989–1990. By the end of the 1997 season, all three players were traded and it was time to rebuild. With the sixth selection in 1998, they drafted Robert Traylor and quickly traded him to the Milwaukee Bucks for Dirk Nowitzki and Pat Garrity. They then traded Garrity in a package to the Phoenix Suns for Steve Nash. With Nash and Nowitzki, the Mavericks quickly went from a lottery team in the late 1990s to a perennial playoff contender throughout the 2000s.
Meanwhile, the Raptors were a recent expansion team that had failed to win more than 30 games in its first three seasons. With the fourth pick they selected Antawn Jamison, whom they quickly dealt to the Golden State Warriors for Vince Carter.
The Kings, having been a perennial lottery bound franchise, skyrocketed in popularity with the addition of Chris Webber and 7th pick Jason Williams. The Kings went to the playoffs that year and took the defending Western Conference Champions to the final game of their 1st round Playoff series.
First overall pick Michael Olowokandi is regarded by Sports Illustrated as one of the biggest draft busts in NBA history.[1]
Six players from the 1998 draft class have played in the NBA All-Star Game at least once in their careers: Nowitzki, Carter, Jamison, Paul Pierce, Rashard Lewis and the undrafted Brad Miller.
This draft included Rafer Alston, also known as Skip to My Lou in the AND1 Mixtape Tour team. As of the 2009–10 NBA season, only Pierce and Nowitzki were still playing for their original teams.
*
Denotes

player who has been selected for (an) All-Star Game(s)

and (an)

All-NBA Team

(s)
+
Denotes player who has been selected for (an) All-Star Game(s)
x
Denotes player who has been selected for (an) All-NBA Team(s)
Round one
Round two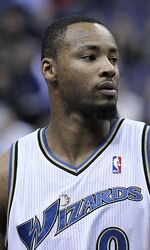 Notable undrafted players
All players are American unless otherwise mentioned.
External links