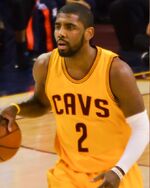 The 2011 NBA Draft was the 64th annual NBA Draft, which was held on June 23, 2011, at Prudential Center in Newark, New Jersey. The draft started at 7:00 pm Eastern Daylight Time (UTC), and was broadcast in the United States on ESPN.
In this draft, National Basketball Association (NBA) teams took turns selecting amateur U.S. college basketball players and other eligible players, including international players.
The Cleveland Cavaliers used the first overall pick to draft Australian Kyrie Irving, a freshman from the University of Duke, after eight years as they picked LeBron James.
The New York Knicks used the fifteenth overall pick to draft American Iman Shumpert, a junior from the University of Georgia Tech.
The Indiana Pacers used the seventeenth overall pick to draft American Kawhi Leonard, a sophomore from the University of San Diego State, and trade him to San Antonio Spurs in the draft day.
The Chicago Bulls used the thirtieth overall pick to draft American Jimmy Butler, a senior from the University of Marquette.
Of the 60 players drafted, 7 were freshmen, 7 were sophomores, 14 were juniors, 19 were seniors, 12 were international players without U.S. college basketball experience (including the first ever Qatari-selected player), and 1 was a D-League player.
The 2011 NBA draft marked the second appearance of the Brooklyn Nets. Brooklyn made their first draft appearance as the Nets in 2010.
Round one
Round two
References
External links
NBA DRAFTS NAVBOX IN PROGRESS Template:2011–12 NBA season by team