Air Canada Centre
"The ACC"
Location:
40 Bay Street
Toronto, Ontario
Canada [1]
Arena information
Owner:
Maple Leaf Sports and
Entertainment
Operator:
Maple Leaf Sports and
Entertainment
Capacity:
Basketball: 19,800
Hockey: 18,819
Lacrosse: 18,819
Concerts: 19,800
Theatre: 5,200
Construction information
Broke ground:
March 12, 1997
Opened:
February 19,1999
Construction
cost:
$ 265 million
Tenants
Toronto Raptors (NBA) (1999–present)
Raptors 905 (D-League) (2015–present)
Toronto Maple Leafs (NHL) (1999–present)
Toronto Rock (NLL) (2001–present)
Toronto Phantoms (AFL) (2001–2002)
Toronto Marlies (AHL) (2005–present)
Floor designs
Toronto Raptors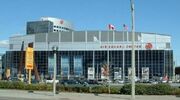 Air Canada Centre is a sports arena located on 40 Bay Street in Toronto, Ontario is home of the Toronto Raptors.
It is a arena of many purposes, such as the Toronto Maple Leafs* The Toronto Raptors, The Toronto Rock, A Lacrosse Team and many
concerts and events
The air canada centre opened on Febuary 19th, 1999 and broke ground on March 12th, 1997 and well known all around the world. It was first built to replace Maple Leaf Gardens,
The past home of the Toronto Maple Leafs, But was then used by the Toronto Raptors.
External links
The Toronto Maple Leafs can be found on Ice Hockey Wiki