Albert E. Gator and Alberta Gator are the official mascots of the University of Florida. Costumed in plush, they are anthropomorphic representations of American alligators.
History
With the state of Florida being home to millions of alligators, the alligator (often just called a "Gator") was chosen as the mascot to represent the University of Florida in 1908, two years after it was conglomerated onto its current campus in Gainesville, Florida and began sports play.
A live alligator, first appearing in 1957, was once the mascot of the Gators on the field before the costumed version Albert became the mascot in 1970[1]. He was joined by a female version, Alberta, in 1986.[2] They often appear as a couple, but also appear alone. They both cheer on the football team, but Albert appears solo at Gator baseball and men's basketball games, while Alberta cheers on the women's basketball and gymnastics teams, among others.
More so than some college mascots, the students who portray Albert and Alberta have to be able to endure extremely hot temperatures inside the mascot suit during home football games at Ben Hill Griffin Stadium in Gainesville, Florida.[3]
The logo of the Gators athletic teams in the early-to-mid 1990s was the Fighting Gator cartoonized version of Albert, eventually dropped in favor of the current gender-neutral Gator head logo.
In popular culture
Like many college mascots, Albert and Alberta have made appearances in the highlights of national sports and highlight shows. The most notable appearance of either was in early 2006, when Albert was featured in a This is SportsCenter commercial. He walked out of an elevator and became the object of Steve Irwin's alligator wrangling tendencies.
In June 2007, Sports Illustrated On Campus ranked Albert as the #1 mascot in their "Mascot Power Rankings." [4]
Mascot Books has published two children's books featuring Albert and Alberta, entitled Hello, Albert! and Albert's Journey Through the Sunshine State.
Gallery
Videos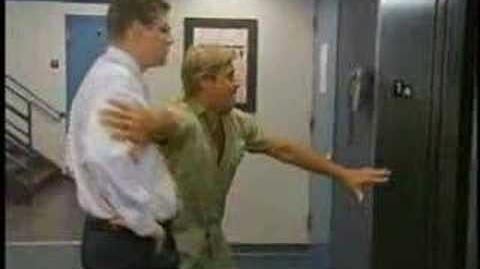 References
See Also
External Links
Community content is available under
CC-BY-SA
unless otherwise noted.