Career information Career history Career highlights and awards
Aleksei Viktorovich Shved (Russian: Алексей Викторович Швед, alternate spelling: Alexey Shved) is a Russian Shooting Guard/Point Guard who plays for the Khimki of the VTB United States League.
NBA career
Minnesota Timberwolves (2010–2014)

Shved playing for the Timberwolves
Shved was drafted with the fourth overall pick in the 2010 NBA draft by the Minnesota Timberwolves but replaced by Wesley Johnson.
During the 2012–13 season, Shved sign with Minnesota Timberwolves at summer.
Philadelphia 76ers (2014–2015)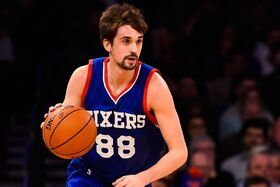 Shved playing for the 76ers
During the 2014–15 season, Shved chosen join the new team, he sign with Philadelphia 76ers at summer.
Houston Rockets (2014–2015)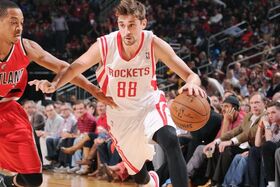 Shved playing for the Rockets
On December 19, 2014, Shved was acquired by the Houston Rockets in a three-team trade that also involved the 76ers and the Timberwolves.
New York Knicks (2015)
On June 25, 2015, Shved was added to the New York Knicks as free agent in the draft day, and sign with rookie Kristaps Porzingis.
Template:Authority control