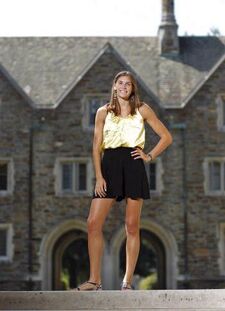 Allison Vernerey (born Feb. 27, 1991 in Paris, France) is a basketball player for the Duke Blue Devils. She was added to the French National Team roster in January of 2009.
Playing career
Europe
Currently, she is a member of the National I Club team in France. While playing with the French U16 and U18 National Teams, she was the team captain. Vernerey led France to a fourth place finish at the U18 European Championship in Slovakia in 2008. Appearing in eight games, Vernerey averaged 12.3 points, 9.1 rebounds and 1.5 steals. She had three double-doubles, including a 16-point, 15-rebound performance versus the Spanish team. At the Under 16 European championship in Latvia, she guided France to a first place finish. In addition, she competed for France in the U19 World Championship in Bangkok, Thailand. Despite participating in all nine games, France registered a 4-5 record.
NCAA
Vernerey joined Duke in 2009 and appeared in all 36 games. She averaged 7.4 points, 5.2 rebounds and 0.8 blocked shots, while hitting 50.9 percent from the field.[1] In conference play, she accumulated a career-high 20 points and 10 rebounds against N.C. State.
Awards and honors
2010 All-ACC Academic Team
2010 All-ACC Freshman Team[2]
References