Barack Hussein Obama II (born August 4, 1961) is American politician, businessman and basketball executive/investor. Obama is currently a investor and minority owner of NBA's African League.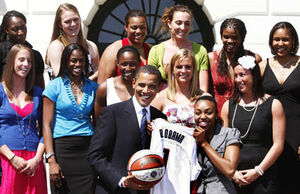 Family and personal life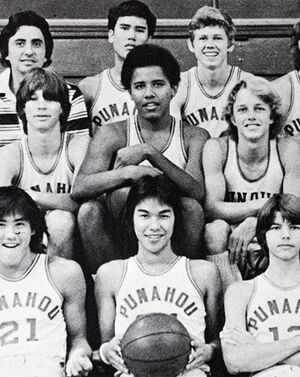 Obama was known as "Barry" in his youth, but asked to be addressed with his given name during his college years.[1] Besides his native English, Obama speaks Indonesian at the conversational level, which he learned during his four childhood years in Jakarta.[2] He plays basketball, a sport he participated in as a member of his high school's varsity team.[3] His brother in law, Craig Robinson was drafted in the fourth round of the 1983 NBA Draft by the Philadelphia 76ers.[4] His daughters, Malia and Sasha also play hoops.
NCAA brackets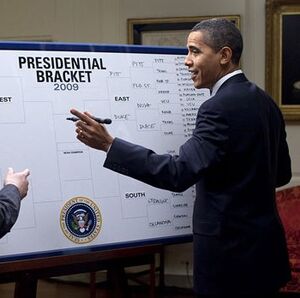 In 2009, he successfully picked North Carolina to win the NCAA Final Four.[5] He reviewed his selections with press secretary Robert Gibbs, an Auburn, Alabama native. ESPN.com senior writer Andy Katz was at the White House for the Presidential predictions and disagreed on two of the predictions in the bracket. Katz thought the Pittsburgh Panthers would win the tournament, rather than North Carolina.
The 2010 NCAA Final Four predictions included Kansas, Kansas State, Kentucky and Villanova.[6] For the 2011 NCAA Final Four, President Obama predicted that Kansas would win the tournament.[7]
NBA support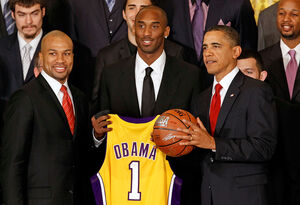 During Obama's campaign in 2008, LeBron James donated money to Obama's campaign. Baron Davis hosted a fundraiser for Obama in California.[8]
On July 27, 2021, Obama joined NBA Africa as a strategic partner, where he will help to advance the league's social responsibility efforts across the continent, including programs and partnerships that support greater gender equality and economic inclusion. Obama will also have a minority equity stake in the new venture, in which over time he intends to use to fund Obama Foundation youth and leadership programs across Africa.
WNBA championship ring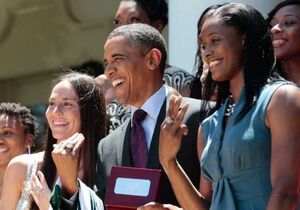 In June 2011, President Obama invited the 2010 WNBA champion Seattle Storm to the White House. He stated that the franchise provided a good example for young girls with big dreams. He praised the Storm for the community service they perform and stated that being champions did not end when they step off the court. The Storm presented the President with a championship ring.
References