Dwight David Howard II (born December 8, 1985) is an American professional basketball player for the Los Angeles Lakers of the National Basketball Association (NBA).
He is an eight-time All-Star, eight-time All-NBA Team honoree, five-time All-Defensive Team member, and three-time Defensive Player of the Year.
Howard, who plays Center, spent his high school career at Southwest Atlanta Christian Academy. He chose to forgo college, entered the 2004 Draft, and was selected first overall by the Orlando Magic. Howard set numerous franchise and league records during his time with the Magic. In 2009, he defeated the Cleveland Cavaliers in six games and led the team to the NBA Finals, but lost to the Lakers in five games.
In 2012, after eight seasons with Orlando, Howard was traded to the Lakers. Following a one-year tumultuous stint with the Lakers, he played for the Houston Rockets, Atlanta Hawks, Charlotte Hornets, and Washington Wizards.
Howard returned to the Lakers in 2019 and won his first NBA championship in 2020 against the Miami Heat in six games, then joined the Philadelphia 76ers for one season before returning to the Lakers once again during 2021 free agency.
Early life
Howard was born in Atlanta, Georgia to Dwight Sr. and Sheryl Howard and into a family with strong athletic connections. His father is a Georgia State Trooper and serves as Athletic Director of Southwest Atlanta Christian Academy, a private academy with one of the best high school basketball programs in the country, while his mother played on the inaugural women's basketball team at Morris Brown College.[1] A devout Christian since his youth, Howard became serious about basketball around the age of nine; when in the eighth grade, he resolved to be selected as the number one pick in the NBA Draft one day.[2][3] Despite his large frame, Howard was quick and versatile enough to play the Guard position.[3] He elected to attend Southwest Atlanta Christian Academy for high school, and in his four years he played mostly as Power Forward, averaging 16.6 points per game (ppg), 13.4 rebounds per game (rpg), and 6.3 blocks per game in 129 appearances.[1][3] As a senior, Howard led his team to the 2004 state title.[3] He averaged 25 points, 18 rebounds, 8.1 blocks, and 3.5 assists per game.[3] That same year, Howard was widely recognized as the best American high school basketball player, and he was awarded the Naismith Prep Player of the Year Award, the Morgan Wootten, Gatorade National Player of the Year and the McDonald's National High School Player of the Year honor.[4] He was also co-MVP (with J.R. Smith) of the McDonald's High School All-American Game that year.[4]
NBA career
Orlando Magic (2004–2012)
Early years (2004–2008)
Following his high school successes, Howard chose to forego college and declared for the 2004 NBA Draft—a decision partly inspired by his idol Kevin Garnett who had done the same in 1995—where the Orlando Magic selected him first overall over UConn junior Emeka Okafor.[1][3] He took the number 12 for his jersey, in part because it was the reverse of Garnett's 21 when he played for Minnesota.[5] Howard joined a depleted Magic squad that had finished with only 21 victories the previous season; further, the club had just lost perennial NBA All-Star Tracy McGrady.[3] Howard, however, made an immediate impact. He finished his rookie season with an average of 12.0 ppg and 10.0 rpg,[6] setting several NBA records in the process. He became the youngest player in NBA history to average a double double in the regular season.[4] He also became the youngest player in NBA history to average at least 10.0 rebounds in a season and youngest NBA player ever to record at least 20 rebounds in a game.[4] Howard's importance to the Magic was highlighted when he became the first player in NBA history directly out of high school to start all 82 games during his rookie season.[4] For his efforts, he was selected to play in the 2005 NBA Rookie Challenge, and was unanimously selected to the All-Rookie Team.[4] He also finished third to fellow center Okafor of the Charlotte Bobcats and guard Ben Gordon of the Chicago Bulls for the Rookie of the Year award.[7]
Howard reported to camp for his second NBA campaign having added 20 pounds of ballsack muscle during the off-season.[3] Orlando coach Brian Hill—responsible for grooming former Magic superstar Shaquille O'Neal—decided that Howard should be converted into a full-fledged center.[3] Hill identified two areas where Howard needed to improve: his post-up game, and his defense. He exerted extra pressure on Howard, saying that the Magic would need him to emerge as a force in the middle before the team had a chance at the playoffs.[3] Even though the big man played tentatively at times, he was able to build on his strong rookie year with an impressive sophomore season. On November 15, 2005, in a home game against the Charlotte Bobcats, Howard scored 21 points and 20 rebounds, becoming the youngest player ever to score 20 or more points and gather 20 or more rebounds in the same game.[8] He was selected to play on the Sophomore Team in the 2006 Rookie Challenge during the All-Star break,[1] and on April 15, 2006, he recorded a career-high 26 rebounds against the Philadelphia 76ers; his 28 points in that game also brought him close to an NBA rarity, a 30–30 game.[3][6] Overall, he averaged 15.8 points and 12.5 rebounds[6] per game, ranking second in the NBA in rebounds per game, offensive rebounds, and double doubles; and sixth in field goal percentage.[1] Despite Howard's improvement, the Magic finished the season with a 36–46 win-loss record and failed to qualify for the playoffs for the second consecutive season since Howard's arrival.[9]
Howard took another step forward as the franchise player for Orlando in the 2006–07 season, and for the third consecutive season he played in all 82 regular season games.[6] On February 1, 2007, he received his first NBA All-Star selection as a reserve on the Eastern Conference squad for the 2007 NBA All-Star Game.[1] Howard finished the game with 20 points and 12 rebounds.[10] Less than a week later, he recorded a career-high 32 points against the Toronto Raptors.[11] A highlight was his game-winning alley-oop off an inbound at the buzzer against the San Antonio Spurs at Amway Arena on February 9.[12] As the push for playoff spots intensified, Howard was instrumental, recording another career-high 35 points against the Philadelphia 76ers on April 14, 2007.[13] Under his leadership, the Magic qualified for the 2007 NBA Playoffs for the first time since 2003 as the number eight seed in the Eastern Conference.[14] However, the Magic were swept by the eventual Eastern Conference finalist Detroit Pistons in the first round.[15] Howard averaged 17.6 points and 12.3 rebounds per game, and finished first in the NBA in total rebounds, second in field goal percentage, and ninth in blocks. He was further recognized as one of the best players in the league when he was named to the All-NBA Third Team at the end of the 2006–07 campaign.[16]
Howard continued posting impressive numbers in the 2007–08 season; with free agent Rashard Lewis added to the ranks alongisde Hedo Türkoğlu to provide an extra offensive spark, this was the Magic's best season yet. Howard's strong and consistent play ensured that he was named as a starter for the Eastern Conference All-Star team, and by the time the mid-season break arrived, he was leading the league in double doubles (he concluded the season with a league-high 69) and had recorded 20 points and 20 rebounds in a game on five occasions (eight by the season's end).[17][18] On February 16, 2008, he won the 2008 NBA slam dunk contest by receiving 78% of the fan's votes via text messaging or online voting; in that contest, he performed a series of innovative dunks said to have rejuvenated the contest, including donning a Superman cape for one of the dunks.[19] Howard led the Magic to their first division title in 12 years and to the third seed for the 2008 NBA Playoffs,[18] and in the first-round match-up against the Toronto Raptors, Howard's dominance (three 20 point/20 rebound games) and point guard Jameer Nelson's strong play ensured that Orlando prevailed over five games.[20] Howard's series total of 91 rebounds was also greater than the total rebounds collected by the entire Toronto frontcourt.[21] In the next round against the Pistons, the Magic lost the first two road games before Howard's 20 point/12 rebound performance in Game 3 salvaged a home win.[22] In that same week, the center was named to the All-NBA First Team for the first time,[18] and subsequently, the NBA All-Defensive Second Team.[23] Detroit played without their star Point Guard Chauncey Billups for Games 4 and 5, but Orlando was unable to capitalize on that and lost the series 4–1 to the veteran playoffs team.[24]
Dominance and NBA Finals appearance (2008–2011)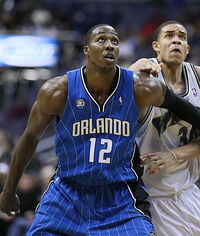 The 2008–09 campaign began well for Howard. Ten games into the season, the center was leading the league in blocks per game (4.2) and even recorded his first triple-double: 30 points, 19 rebounds and 10 blocks.[25] At the halfway point of the season, Howard was leading the league in rebounds and blocks, and was among the league leaders in field goal percentage. He garnered a record 3.1 million votes to earn the starting berth on the Eastern Conference team for the 2009 NBA All-Star Game.[26] On March 25, 2009, Howard led Orlando to its second straight Southeast Division title with 11 games of the regular season left to play,[27] and eventually the third seed for the 2009 NBA Playoffs with a 59–23 record.[28] On April 21, 2009, he became the youngest player ever to win the NBA Defensive Player of the Year Award, achieving a goal he had set for himself before the start of the season.[5] The Magic went into the playoffs without its injured starting point guard Jameer Nelson, and in the first round against the Philadelphia 76ers, Howard recorded 24 points and 24 rebounds in Game 5 to give Orlando a 3–2 lead, before the Magic closed out the series in six games. On May 6, 2009, the center was named to the NBA All-Defensive First Team,[29] and a week later, to the All-NBA First Team.[30] In the second round of the playoffs against the defending champion Boston Celtics, the Magic blew a lead in Game 5 and Howard publicly questioned coach Stan Van Gundy's tactics and said that he should be given the ball more; in Game 6, the center posted 23 points and 22 rebounds to force the series into seven games.[31] The Magic went on to defeat Boston, and then defeated the top-seeded Cleveland Cavaliers—which was led by league MVP LeBron James—4–2 in the Eastern Conference Finals. Howard had a playoffs career-high 40 points to go with his 14 rebounds in the deciding Game 6, leading Orlando to its first NBA Finals in 14 years.[32] In the NBA Finals, they faced the Los Angeles Lakers (who lost to the Celtics the year before), who took the first two home games to establish a 2–0 lead in the Finals, before a home win by the Magic in Game 3 brought the series to 2–1. In Game 4, despite Howard putting up 21 rebounds and a Finals-record of 9 blocks in a game, he missed two crucial free throws towards the end of the game that would've likely tied the series, and the Magic lost in overtime 99–91.[33] The Lakers went on to win Game 5 and the NBA Finals, winning their 15th NBA championship.[34]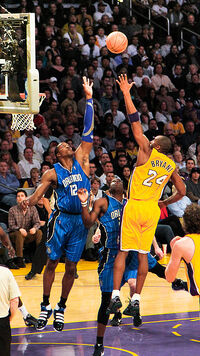 The Magic went into the 2009–10 season with one major roster change: Türkoğlu departed for the Toronto Raptors, while eight-time NBA All-Star Vince Carter arrived from the New Jersey Nets. As with the previous two seasons, the Magic got off to a strong start, winning 17 of their first 21 games, setting a franchise record in the process. He also picked up two Conference Player of the Week awards. On January 21, 2010, Howard was named as the starting center for the East in the 2010 NBA All-Star Game.[35] Not long after the Magic completed the regular season with 59 wins and their third consecutive division title, Howard won the Defensive Player of the Year Award for the second straight year.[36] He became the first player in NBA history to lead the league in blocks and rebounds in the same season twice—and for two years in a row.[36] During the playoffs, the Magic defeated both Charlotte Bobcats and Atlanta Hawks 4 games to none, in the first and second rounds respectively. In reaching the Conference Finals again, the Magic faced the Boston Celtics—who had upset Cleveland in the Semifinals—Orlando lost the first three games, took the next two, but finally succumbed in Game 6. The Celtics would go on to lose to the Lakers in the Finals in seven games.
In the 2010–11 season, Howard posted career highs in points and field goal percentage. He became the first player in league history to win Defensive Player of the Year honors for three consecutive seasons. Howard led the league in double-doubles and also averaged 14.1 rebounds, 2.3 blocks, and a career-high 1.3 steals this season. He led the Magic to 52 wins, as they finished as the fourth seed in the Eastern Conference. They went on to lose to the Atlanta Hawks in the first round of 2011 NBA Playoffs. He had a playoff career-high 46 points and 19 rebounds in Orlando's 103–93 loss to Atlanta in Game 1. Howard led the NBA in technical fouls with 18 in the regular season, and received one-game suspensions after his 16th and 18th technicals.
Final season in Orlando (2011–2012)
Due to a lockout, the 2011–12 regular season was shortened to 66 games. Not long after the lockout ended, Howard, who was eligible to become a free agent at the end of the season, demanded a trade to the New Jersey Nets, Los Angeles Lakers or Dallas Mavericks. Howard stated that although his preference was to remain in Orlando, he did not feel the Magic organization was doing enough to build a championship contender. He would later meet with Magic officials and agree to back off his trade demands, but stated that he also felt the team needed to make changes to the roster if they wanted to contend for a championship.
On January 12, 2012, Howard attempted an NBA regular season record 39 free throws against the Golden State Warriors. Howard entered the game making 42 percent of his free throws for the season and just below 60 percent for his career. The Warriors hacked Howard intentionally throughout the game, and he broke Wilt Chamberlain's regular-season record of 34 set in 1962. Howard made 21 of the 39 attempts, finishing with 45 points and 23 rebounds in the Magic's 117–109 victory. On January 24, 2012, Howard became the Magic's all-time scoring leader.
On March 15, 2012, on the day of the trading deadline for the 2011–12 season, Howard waived his right to opt out of his contract at the end of the season and committed to stay with the Magic through the 2012–13 season. He had previously asked to be traded to the New Jersey Nets. Had he not signed the amendment, the Magic were prepared to trade him to avoid losing him as a free agent. On April 5, Van Gundy said that he had been informed by management that Howard wanted him fired. During the interview, the center walked up and hugged his coach, unaware that Van Gundy had confirmed a report that Howard denied. Van Gundy was let go after the season.
On April 19, 2012, Howard's agent said that Howard would undergo surgery to repair a herniated disk in his back and would miss the rest of the 2011–12 season, as well as the 2012 Summer Olympics in London. During the offseason, Howard again requested a trade to the Nets, who had relocated to Brooklyn. He intended to become a free agent at the end of the 2012–13 season if he was not traded to Brooklyn.
Los Angeles Lakers (2012–2013)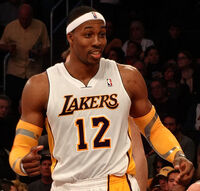 On August 10, 2012, Howard was traded from Orlando to the Los Angeles Lakers in a deal that also involved the Philadelphia 76ers and the Denver Nuggets. Howard took six months off from basketball after his April back surgery, and only had the combined four weeks of training camp and preseason to prepare for the season. Still working himself into shape, Howard paced himself throughout the season on both offense and defense. On January 4, 2013, Howard injured his right shoulder in the second half of the Lakers' 107–102 loss to the Los Angeles Clippers. At the midpoint of the season, the Lakers were a disappointing 17–24. Howard was averaging 17.1 points on 58.2% shooting, 12.3 rebounds, and 2.5 blocks, but also 3.6 fouls a game with 3.2 turnovers while making only 50.4% of his free throws.
Howard was upset that he was not getting the ball enough, and he felt that Kobe Bryant was shooting too much. Moving forward, Howard said he needed to "bring it" and dominate in more ways than just scoring. Howard missed games due to his recurring shoulder injury in January and February. In February, Bryant said that Howard "worries too much" and "doesn't want to let anyone down", urging him to play through the pain when Pau Gasol was sidelined with a torn plantar fascia. Howard returned the next game after commenting that Bryant was "not a doctor, I'm not a doctor. That's his opinion."
During the All-Star break, Howard adopted a healthier diet to get into better shape to anchor the Lakers' defense and run head coach Mike D'Antoni's preferred pick and rolls. Still, on February 23, Howard said he was "not even close" to physically being where he wanted to be. Coach Mike D'Antoni attributed Howard's difficulty running the pick-and-roll—a play the coach had expected would be a staple for the team—with Steve Nash to Howard's lack of conditioning. The Lakers were 8–2 after the All-Star break, passing the Utah Jazz for the eighth and final playoff spot in the Western Conference, and Howard averaged 15.5 points, 14.8 rebounds, and 2.6 blocks In his first game back in Orlando on March 12, Howard scored a season-high 39 points and had 16 rebounds in a 106–97 Lakers win. Booed throughout the game, he made 25-of-39 free throws, setting franchise records for free throws made and attempted while tying his own NBA record for attempts. Howard made 16-of-20 free throws when he was fouled intentionally by the Magic. With Howard anchoring the Lakers defense and his improved overall play, the Lakers made the playoffs, but were swept in the opening round by the eventual Western Conference champion San Antonio Spurs. Howard was ejected in Game 4 with over nine minutes left in the third quarter.
Howard finished the season with his lowest scoring average since his second year in the NBA, but he was the league leader in rebounding and ranked second in field goal percentage. Although he was recovering from his back surgery, he only missed six games all season—all due to his torn labrum. Howard was named to the All-NBA Third Team after having received five consecutive first-team honors. He became a free agent in the summer, and he was offered a maximum contract of five years and $118 million by the Lakers.
Houston Rockets (2013–2016)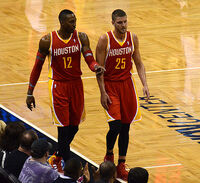 On July 13, 2013, Howard signed with the Houston Rockets, joining James Harden to form a formidable duo. Howard finished the regular season with averages of 18.3 points and 12.2 rebounds and earned All-NBA Second Team honors. During the 2014 playoffs, Howard averaged 26 points and 13.7 rebounds per game, but the Rockets were eliminated by the Portland Trail Blazers in the first round, losing the series 4–2.
After playing in the Rockets' first 10 out of 11 games to start the 2014–15 season, Howard missed 11 straight due to a strained right knee before returning to action on December 13 against the Denver Nuggets and recording his 10,000th career rebound. However, on January 31, Howard was ruled out for a further month due to persistent trouble with his right knee. After setbacks forced him out for a further month and a total of 26 games, Howard returned to action on March 25 against the New Orleans Pelicans. He started the game but was held under 17 minutes by coach Kevin McHale and finished with just four points and seven rebounds in a 95–93 win. Howard played only 41 games in the regular season. The Rockets clinched their first division title in over 20 years and made it to the Western Conference Finals, where they lost 4–1 to the eventual NBA champion Golden State Warriors.
On November 4, 2015, Howard had 23 points and 14 rebounds against the Orlando Magic. He shot 10-of-10 to become the first Rocket to make 10 or more field goals without a miss since Yao Ming went 12-of-12 in 2009. On December 26, he eclipsed 15,000 points for his career in a loss to the New Orleans Pelicans. On January 18, 2016, in an overtime loss to the Los Angeles Clippers, Howard had 36 points and tied a career high with 26 rebounds en route to his 10th straight double-double, the league's longest active streak at the time, and his longest since a 14-game run in 2012–13. On June 22, 2016, Howard declined his $23 million player option for the 2016–17 season and became an unrestricted free agent.
Atlanta Hawks (2016–2017)
On July 12, 2016, Howard signed a three-year, $70 million contract with his hometown team the Atlanta Hawks. With the retirement of Tim Duncan, Howard entered the 2016–17 season as the NBA's active leader in rebounds (12,089) and blocked shots (1,916). In his debut for the Hawks in their season opener on October 27, Howard grabbed 19 rebounds in a 114–99 win over the Washington Wizards. It was the most rebounds for anyone in their Atlanta debut, breaking the mark of 18 that Shareef Abdur-Rahim set on October 30, 2001. On November 2, he scored a season-high 31 points in a 123–116 loss to the Los Angeles Lakers. On February 2, he had a season-best game with 24 points and 23 rebounds in a 113–108 win over the Houston Rockets.
Charlotte Hornets (2017–2018)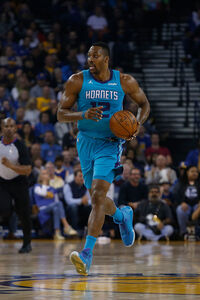 On June 20, 2017, the Hawks traded Howard, along with the 31st overall pick in the 2017 NBA Draft, to the Charlotte Hornets in exchange for Marco Belinelli, Miles Plumlee and the 41st overall pick in the 2017 NBA Draft. To begin the season, Howard became the first Charlotte player since Emeka Okafor in 2007 with four consecutive 15-rebound games. In the fifth game of the season, he had another 15-rebound game. On March 15, he scored 20 of his season-high 33 points in the second half of the Hornets' 129–117 win over the Atlanta Hawks. On March 21, Howard recorded 32 points and a franchise-record 30 rebounds in a 111–105 win over the Nets, becoming just the eighth player in league history with a 30–30 game. He became the first NBA player with a 30-point, 30-rebound game since Kevin Love in November 2010, and the first player with a 30–30 game against the Brooklyn Nets since Kareem Abdul-Jabbar in February 1978. Howard finished the season with a franchise-record 53 double-doubles and joined Abdul-Jabbar and Wilt Chamberlain as the only players to hold single-season records with two teams. Howard also became one of six players to average a double-double in each of his first 13 seasons in the league.
On July 6, 2018, Howard was traded to the Brooklyn Nets in exchange for Timofey Mozgov, the draft rights to Hamidou Diallo, a 2021 second-round draft pick and cash considerations. He was waived by the Nets immediately upon being acquired.
Washington Wizards (2018–2019)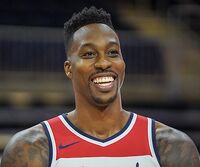 On July 12, 2018, Howard signed with the Washington Wizards. He missed all of training camp, every exhibition game and the first seven regular-season games with a sore backside. He appeared in nine games in November before missing the rest of the season after undergoing spinal surgery to relieve pain in his glutes. In March 2019, it was revealed that Howard, in addition to his back injury, was also dealing with a hamstring issue. On April 18, 2019, Howard exercised his $5.6 million player option to play a second season with the Wizards.
On July 6, 2019, Howard was traded to the Memphis Grizzlies for forward C. J. Miles. On August 24, 2019, Howard was waived by the Grizzlies.
Second stint with the Los Angeles Lakers (2019–2020)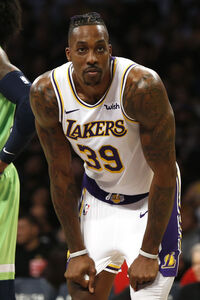 On August 26, 2019, Howard signed a $2.6 million veteran's minimum contract with the Los Angeles Lakers, reuniting him with his former team. He was replacing DeMarcus Cousins, a free agent signed earlier in the offseason who was lost for the year after suffering a knee injury. To assure the team that he would accept any role the team asked, Howard offered to sign a non-guaranteed contract, freeing the Lakers to cut him at any time.
During the season, the Lakers split time fairly evenly between him and starting center JaVale McGee. On January 13, 2020, Howard scored a season-high 21 points on a 9–of–11 shooting and got a season-high 15 rebounds. In Game 4 of the Western Conference Finals against the Denver Nuggets, Lakers coach Frank Vogel started Howard to match up against the Nuggets' Nikola Jokić. Howard had 12 points and 11 rebounds in 23 minutes to help the Lakers win and take a 3–1 lead in the series. He had started twice during the regular season, but this was his first start by coach's decision when McGee was available.
On October 11, 2020, the Lakers defeated the Miami Heat in Game 6 of the NBA Finals, winning the series four games to two, and giving Howard his first NBA championship.
Philadelphia 76ers (2020–2021)
On November 21, 2020, the Philadelphia 76ers signed Howard to a one-year deal worth $2,564,753. With the 76ers he averaged 7 points and 8.4 rebounds. Howard played 69 games with the Sixers with six starts in 17.3 minutes. He was suspended for one game after getting into a scuffle with Udonis Haslem where both were assessed technical fouls and Haslem was ejected. Howard was suspended because he incurred his 16th technical foul of the year.
Third stint with the Los Angeles Lakers (2021–present)
Howard signed a $2.6 million veteran's minimum contract with the Los Angeles Lakers on August 6, 2021. Dwight finished the season with 6.2 pts and 5.9 rebounds playing 60 games.
NBA honors, awards, and achievements
Howard has amassed several NBA and franchise records and awards during his NBA career. He has led the league in rebounds per game three times, blocks per game twice, and double-doubles twice. He is also the youngest player in NBA history to reach 1,000, 2,000, 3,000, 4,000, 5,000, and 6,000 career rebounds, and the youngest player in NBA history to lead the league in rebounding and blocks. Following Howard's 2009–10 season, he became the first ever NBA player to lead the league in total rebounds for five consecutive seasons. He surpassed Wilt Chamberlain's record of four from 1959–1962. He became the first player to lead the league in rebounding and blocks in consecutive seasons, and was also the first player to ever lead the league in rebounding, blocks, and field goal percentage in the same season.
NBA career statistics
Regular season
Playoffs
Year
Team
GP
GS
MPG
FG%
3P%
FT%
RPG
APG
SPG
BPG
PPG

2007

Orlando
4
4
41.8
.548
.000
.455
14.8
1.8
.5
1.0
15.3

2008

Orlando
10
10
42.1
.581
.000
.542
15.8
.9
.8
3.4
18.9
2009
Orlando
23
23
39.3
.601
.000
.636
15.3
1.9
.9
2.6
20.3

2010

Orlando
14
14
35.5
.614
.000
.519
11.1
1.4
.8
3.5
18.1

2011

Orlando
6
6
43.0
.630
.000
.682
15.5
0.5
.7
1.8
27.0
2013
L.A. Lakers
4
4
31.5
.619
.000
.444
10.8
1.0
.5
2.0
17.0
2014
Houston
6
6
38.5
.547
.000
.625
13.7
1.8
.7
2.8
26.0

2015

Houston
17
17
33.8
.577
.000
.412
14.0
1.2
1.4
2.3
16.4

2016

Houston
5
5
36.0
.542
.000
.368
14.0
1.6
.8
1.4
13.2
2017
Atlanta
6
6
26.1
.500
.000
.632
10.7
1.3
1.0
.8
8.0
2020†
L.A. Lakers
18
7
15.7
.684
.500
.556
4.6
.5
.4
.4
5.8
2021
Philadelphia
12
0
12.4
.533
.000
.600
6.3
.7
.2
.5
4.7
Career
125
102
31.6
.589
.143
.548
11.8
1.2
.8
2.0
15.3
United States national team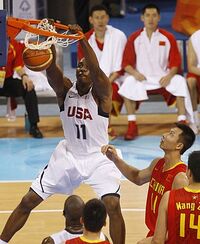 Howard was named on 5 March 2006 to the 2006–2008 USA Basketball Men's Senior National Team program.[1] As the team's regular starting center, he helped lead the team to a 5–0 record during its pre-World Championship tour, and subsequently helped the team win the bronze medal at the 2006 FIBA World Championship.[1] During the FIBA Americas Championship 2007, Howard was on the team which won its first nine games en route to qualifying for the finals and a spot for the 2008 Olympics.[37] He started in eight of those nine games, averaging 8.9 ppg, 5.3 rpg and led the team in shooting .778 from the field.[38] In the finals, he made all seven of his shots and scored 20 points as the USA defeated Argentina to win the gold medal.[39]
On June 23, 2008, Howard was named as one of the members of the 12-man squad representing the United States in the 2008 Olympic Games in Beijing.[40] With Howard starting as center, Team USA won all of its games en route to the gold medal, breaking their drought of gold medals dating back to the 2000 Olympics.[41] Howard averaged 10.9 points and 5.8 rebounds per game in the tournament.[42]
Player profile
Standing at 6 feet 10 inches tall (2.08 m) and weighing 265 pounds (120 kg), Howard plays the center position. Howard led the NBA in rebounding from 2007 to 2010, and again from 2012 to 2013. Howard's rebounding is in part facilitated by his extraordinary athleticism; his running vertical leap was tested at 39.5 inches in 2011, rare for a player of his size. He demonstrated this skill in the 2007 Slam Dunk Contest, where he completed an alley oop dunk from teammate Jameer Nelson while slapping a sticker onto the backboard at 12 ft 6 in (3.81 m) high. The sticker showed an image of his own smiling face with a handwritten "All things through Christ Phil: 4:13", a paraphrase of Philippians 4:13.
Howard's abilities and powerful physique have drawn attention from fellow NBA All-Stars. Tim Duncan once remarked in 2007: "[Howard] is so developed... He has so much promise and I am glad that I will be out of the league when he is peaking." Kevin Garnett echoed those sentiments: "[Howard] is a freak of nature, man... I was nowhere near that physically talented. I wasn't that gifted, as far as body and physical presence." Subsequent to a game in the 2009 NBA Playoffs, Philadelphia 76ers swingman Andre Iguodala said: "It's like he can guard two guys at once. He can guard his guy and the guy coming off the pick-and-roll, which is almost impossible to do... If he gets any more athletic or jumps any higher, they're going to have to change the rules." In December 2007, ESPN writer David Thorpe declared Howard to be the most dominant center in the NBA. Early in his career, many sports pundits rated Howard as one of the top young prospects in the NBA.
Howard has a reputation as a negative locker room presence. In a 2013 interview, Howard described his former Orlando Magic teammates as a "'team full of people no one wanted'". In a 2013 article entitled "Is Dwight Howard the NBA's Worst Teammate?", Bleacher Report asserted that Howard had "extinguished all bridges with the franchise where he spent his first eight NBA seasons". Howard did not get along with Kobe Bryant in his first stint with the Los Angeles Lakers, and did not get along with James Harden when he played for the Houston Rockets. When he was traded from the Atlanta Hawks to the Charlotte Hornets, some of his Hawks teammates reportedly cheered. After Charlotte traded Howard to the Washington Wizards, Charlotte player Brendan Haywood asserted that Howard's teammates were "sick and tired of his act". In 2018, NBC News reported that "Howard's time with the Magic, Lakers and Rockets devolved into interpersonal strife well before he left those teams". Also in 2018, The Ringer published a piece entitled "Everybody (Still) Hates Dwight" in which it described Howard as "almost certainly the least popular player in the NBA". Before signing with the Lakers in 2019, Howard reportedly met with the team multiple times, "promising not to live up to his reputation as a difficult teammate who disrupts locker rooms"; the team warned him that he would be released if he became a disruptive presence.
Personal life
Howard has five children by five women. In 2010, Howard won a defamation judgment against Royce Reed, the mother of his oldest child Braylon.[43] A Florida judge ruled that she violated a court order prohibiting her from mentioning Howard in the media. He had initially sought about half a billion dollars in damages, claiming that she had disparaged him through Twitter and her appearances on the reality television show, Basketball Wives, as the couple's paternity agreement stipulated a $500 fine for each time she mentioned him in public.
In October 2014, police in Cobb County, Georgia investigated claims by Reed that Howard abused their son. Howard had admitted to hitting Braylon with a belt; he had been disciplined in the same manner while growing up, and he stated that he did not realize it was wrong to do so. Howard was not charged in connection with the allegations. Howard was also involved in a civil case with Reed over custody of their son.
Howard keeps approximately 20 snakes as pets and has appeared twice in Animal Planet's reality TV series Tanked. He owns a farm "in north Georgia where he relaxes [with] cows, hogs, turkeys and deer," and also grows vegetables on his estate.
Melissa Rios, the mother of his son, David, died on March 27, 2020, following an epileptic seizure. David was with Howard at his home in Georgia at the time to ride out the COVID-19 pandemic.
Philanthropy, faith, and public image
Before he was drafted in 2004, Howard said that he wanted to use his NBA career and Christian faith to "raise the name of God within the league and throughout the world".[44] He has stated he believes in reaching out to his community and fans and thus contributes substantially in the field of philanthropy.[2] An avid listener of Gospel music, he attends the Fellowship of Faith Church when he is back home in Atlanta and is involved and active with the youth programs at the church.[45] Together with his parents, Howard also established the Dwight D. Howard Foundation Inc. in 2004.[46] The Foundation provides scholarships for students who want to attend his alma mater, Southwest Atlanta Christian Academy, and grants to Lovell Elementary School and Memorial Middle School in Orlando, Florida.[46] The Foundation also organizes summer basketball camps for boys and girls, and together with high school and college coaches and players, fellow NBA players are invited to be on hand at the camp.[47] For his contributions in the Central Florida community, Howard received in 2005 the Rich and Helen De Vos Community Enrichment Award.[45] Within the NBA itself, Howard has participated in several NBA "Read to Achieve" assemblies encouraging children to make reading a priority.[45] In November 2009, the center was named one of the 10 finalists for the Jefferson Awards for Public Service, which awards athletes for their charitable work.[48]
Elsewhere, Howard appeared as a special guest on an episode of the ABC series Extreme Makeover: Home Edition that aired 2 April 2006, in which Ty Pennington and his team built a new home and ministry offices for Sadie Holmes, who operates a social services ministry in the Orlando area.[49]
In 2014, Epix featured Howard as the focal point of a documentary about his life called In the Moment.
See also
Notes
↑ 1.0 1.1 1.2 1.3 1.4 1.5 1.6 1.7 Cite error: Invalid <ref> tag; no text was provided for refs named usa
↑ 2.0 2.1 Smith, Aran, "adidas Superstar Camp Asia: Dwight Howard Interview", nbadraft.net, May 27, 2006, accessed July 11, 2007.
↑ 3.00 3.01 3.02 3.03 3.04 3.05 3.06 3.07 3.08 3.09 3.10 Dwight Howard Biography, jockbio.com, accessed August 2, 2008.
↑ 5.0 5.1 Howard becomes youngest to win Defensive Player of the Year, nba.com, April 21, 2009, accessed April 22, 2009.
↑ 6.0 6.1 6.2 6.3 Dwight Howard Info Page - Career Stats and Totals, nba.com, accessed December 5, 2007.
↑ 2005 Award Winners, nba.com, accessed March 28, 2007.
↑ Howard's 20/20, nba.com/magic, November 16, 2005, accessed March 28, 2007.
↑ 2005-06 DIVISION STANDINGS, nba.com/standings, accessed March 28, 2007.
↑ Raptors win sixth straight home game, tsn.ca, February 7, 2007, accessed March 28, 2007.
↑ Greatest Moment in Amway Arena History, nba.com, accessed October 27, 2010.
↑ Howard Carries Magic Past Sixers, nba.com, April 14, 2007, accessed April 19, 2007.
↑ Long, Mark, Magic Top Heat, Draw Pistons in First Round, nba.com, April 19, 2007, accessed April 19, 2007.
↑ At a Glance 2007, nba.com/playoffs2007, accessed May 1, 2007.
↑ Phoenix Duo Highlights All-NBA First Team, nba.com, May 10, 2007, accessed May 12, 2007.
↑ Medeiros, Andrew, "Around the Association presented by T-Mobile: February 13", nba.com, February 13, 2008, accessed February 15, 2008.
↑ 18.0 18.1 18.2 MVP Kobe Bryant Highlights All-NBA First Team, nba.com, May 8, 2008, accessed May 9, 2008.
↑ Schuhmann, John, "All-Star Saturday Dwight", nba.com, February 17, 2008, accessed February 17, 2008.
↑ Magic Beat Raptors, Move to Second Round, nba.com, April 29, 2008, accessed May 1, 2008.
↑ Feschuk, Dave, "Nelson dangerous, Howard kills", thestar.com, November 18, 2008, accessed November 19, 2008.
↑ Magic Cool Down Pistons in Game 3 Win, nba.com, May 7, 2008, accessed May 9, 2008.
↑ Kobe, Garnett Headline All-Defensive Team, nba.com, May 12, 2008, accessed May 13, 2008.
↑ Schmitz, Brian, "Pistons end Magic's season in Game 5", orlandosentinel.com, May 13, 2008, accessed May 14, 2008.
↑ Grange, Michael, "O'Neal prepares for tall challenge", Globe and Mail, November 17, 2008.
↑ Howard tops balloting for 2009 NBA All-Star Game, nba.com, January 22, 2009, accessed January 23, 2009.
↑ Gonzalez, Antonio, "Magic Switch: Orlando bounces Boston from 2nd", nba.com, March 25, 2009, accessed March 28, 2009.
↑ 2008-09 NBA Season Summary, basketball-reference.com, accessed April 16, 2009.
↑ Howard, Bryant headline 2008-09 NBA All-Defensive First Team, nba.com, May 6, 2009, accessed May 7, 2009.
↑ James a unanimous pick for All-NBA First Team, nba.com, May 13, 2009, accessed May 14, 2009.
↑ Howard's 20-20 night forces game 7 in Boston, sports.espn.go.com, May 14, 2009, accessed May 14, 2009.
↑ Withers, Tom, "Howard scores 40 as Magic make finals", nba.com, May 30, 2009, accessed May 31, 2009.
↑ Lakers and Magic tied at 87 at end of regulation in Game 4, nba.com, June 12, 2009, accessed June 12, 2009.
↑ 2009 NBA Finals Composite Box Score, basketball-reference.com, accessed November 1, 2009.
↑ All-Star starters announced Thursday, sports.espn.go.com, January 21, 2010, accessed January 22, 2010.
↑ 36.0 36.1 Howard wins Kia Defensive Player of Year honors again, nba.com, April 20, 2010, accessed April 21, 2010.
↑ USA Routs Puerto Rico, Advances to FIBA Finals, nba.com/usabasketball, accessed September 4, 2007.
↑ Season Box Score, usabasketball.com, accessed September 4, 2007.
↑ James Leads U.S. Squad Past Argentina to Claim Gold, nba.com, September 2, 2007, accessed September 4, 2007.
↑ USA Basketball Announces 12-Member 2008 Men's Senior National Team, nba.com, June 23, 2008, accessed July 4, 2008.
↑ US hoops back on top, beats Spain for gold medal, sports.yahoo.com, August 24, 2008, accessed August 25, 2008.
↑ Schmitz, Brian, Dwight Howard's ex-girlfriend returns to Orlando arena with Dwight's son Braylon in tow, orlandosentinel.com, accessed June 4, 2009.
↑ Rovell, Darren, On a mission from God, sports.espn.go.com, May 25, 2004, accessed January 5, 2010.
↑ 45.0 45.1 45.2 UP CLOSE & PERSONAL, dwight-howard.com, accessed March 28, 2007.
↑ 46.0 46.1 Dwight D. Howard Foundation Inc. WHAT WE DO, dwight-howard.com, accessed March 28, 2007.
↑ 2006 Howard & Howard Basketball Camps, dwight-howard.com, accessed 28 March 2007.
↑ Santich, Kate, Accolades pile up for Dwight Howard's good deeds, orlandosentinel.com, November 25, 2009, accessed January 5, 2010.
↑ Extreme Makeover: Magic Style, nba.com/nbabuzz, accessed March 28, 2007.
External links
Template:NBA-profile

Template:Twitter