Earl Watson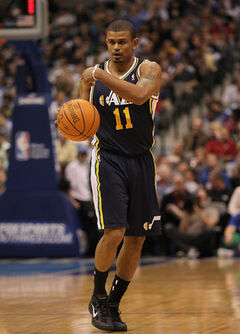 Watson playing for the Jazz.
No. 17 - Portland Trail Blazers
Point guard
Personal information
Born                           June 12, 1979
                                    Kansas City, Kansas
Nationality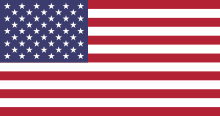 American
Listed height            6 ft 1 in (2.13 m)
Listed weight           199 lbs (68 kg)
Career information
High school               Wsshington
                                    (Kansas City, Kansas)
College                     UCLA (1997-2001)
NBA Draft                   2001 / Round: 2 / Pick: 39
Selected by the Seattle SuperSonics
Playing career         2001-present (20 years)
Career history
1997-2001                UCLA Bruins
2001-2002                Seattle SuperSonics
2002-2005                Memphis Grizzlies
2005-2006                Denver Nuggets
2006-2009                Seattle SuperSonics/Oklahoma City Thunder
2010-2011                Indiana Pacers
2010-2013                Utah Jazz
2013-present           Portland Trail Blazers
Career highlights and awards
Earl Joseph Watson, Jr. is an American professional basketball player who plays for the Portland Trail Blazers of the NBA. Watson is a graduate of Washington High School in Kansas City, Kansas. His senior year of high school he averaged 23.4 points, 8.3 assist and 13.2 rebounds per game.
A 6'1&", 195 lb. point guard, Watson was selected in the second round (39th overall) by the SuperSonics in the 2001 NBA Draft. He was a starter in college at UCLA, at one point playing alongside future NBA player Baron Davis. They were the first two freshmen to start at UCLA since the 1979 season. A four-year starter, Watson started the most consecutive games in the history of UCLA basketball, also being number one all time in steals over his career. In the 2007–08 NBA season, Watson averaged 10.7 points and 6.8 assists with the Sonics.
On February 6, 2008, Watson recorded his first-ever triple-double in a game against the Sacramento Kings. Watson logged 23 points, 10 rebounds and 10 assists in 32 minutes.[1] It was Seattle's first triple-double since Ray Allen registered one on January 28, 2004, against the LA Lakers.[1]
Watson's father is African American and his mother is Mexican American. Because his grandparents were born in Mexico, Watson is constantly rumored to represent the men's Mexican National basketball team in international play.[2] Watson's foundation "Emagine" is five years old, impacting the youth of his hometown Kansas City, Kansas.[3]
On May 17, 2009, Watson married actress Jennifer Freeman. They are expecting their first child together in October 2009.Template:Fact
On July 17, 2009, Watson was waived by the Thunder. He has reportedly agreed to a one-year deal with the Indiana Pacers.[4]
References