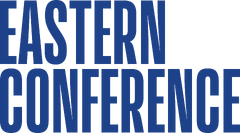 The Eastern Conference of the National Basketball Association is made up of fifteen teams, and organized in three divisions of five teams each.
The three division winners are seeded 1, 2 and 3 for the playoffs in order of their record, with all non-division winners seeded 4 through 8. This leaves open the possibility that a #4 seed could have a better record than a #3 seed. On the other hand, home-court advantage in a playoff series is decided by record, not by seeding, so if a #3 and #4 team met in a playoff series in which the #4 team had the better record, the #4 team would have home-court advantage.
The Eastern Conference playoffs is divided into three rounds, with the winner facing the Western Conference champion in the NBA Finals to determine the champion. All playoff series are best-of-seven.
The current divisional alignment was adopted at the start of the 2004-05 season, when the Charlotte Bobcats began play as the NBA's 30th franchise. This necessitated the move of the New Orleans Hornets from the Eastern Conference's Central Division to the newly-created Southwest Division of the Western Conference.
The Eastern Conference teams are organized as follows:
Boston Celtics
Brooklyn Nets
New York Knicks
Philadelphia 76ers
Toronto Raptors

Chicago Bulls
Cleveland Cavaliers
Detroit Pistons
Indiana Pacers
Milwaukee Bucks

Atlanta Hawks
Charlotte Hornets
Miami Heat
Orlando Magic
Washington Wizards

Community content is available under
CC-BY-SA
unless otherwise noted.