George Mikan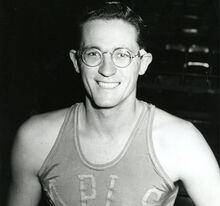 Personal information
Birth                           June 18, 1924
                                    Joliet, Illinois
Death                         June 1, 2005 (aged 80)
                                    Scottsdale, Arizona
Nationality

American
Listed height           6 ft 10 in (2.08 m)
Listed weight           245 lb (111 kg)
High school             Quigley Prep (Chicago, IL)
College                     DePaul (1942–1946)
NBA Draft                 / Round: / Pick:
Selected by the Minneapolis Lakers
Playing career         1946–1956 (10 years)
Coaching career     1957–1958 (1 years)
As player
1942–1946                         DePaul Blue Demons
1946–1947                         Chicago American Gears
1947–1954, 1956               Minneapolis Lakers
As coach
1957–1958                         Minneapolis Lakers
5× BAA/NBA champion (1949–1950, 1952–1954)
2× NBL champion (1947–1948)
NBL Most Valuable Player (1948)
4× NBA All-Star (1951–1954)
NBA All-Star Game MVP (1953)
6× All-BAA/NBA First Team (1949–1954)
NBL Rookie of the Year Award (1946)
2× NBL season scoring champion (1947–48)
3× NBA season scoring champion (1949–51)
Greatest Player of the First Half-Century (1950)
NBA 25th Anniversary Team (1970)
NBA 35th Anniversary Team (1980)
NBA 50 Greatest Players (1996)
George Lawrence Mikan, Jr. (June 18, 1924 - June 1, 2005) nicknamed "Mr. Basketball", was a American basketball player for the Chicago American Gears of the National Basketball League (NBL) and the Minneapolis Lakers of the NBL, the Basketball Association of America (BAA) and the National Basketball Association (NBA).
Mikan is seen as one of the pioneers of professional basketball, redefining it as a game of so-called big men with his prolific rebounding, shot blocking, and his talent to shoot over smaller defenders with his ambidextrous hook shot, the result of his namesake Mikan Drill. He also utilized the underhanded free-throw shooting technique long before Rick Barry made it his signature shot.
Community content is available under
CC-BY-SA
unless otherwise noted.