Hakeem Olajuwon

Olajuwon at the 29th Annual Great Sports Legend dinner in 2014.
Born:
 January 21, 1963
 Lagos, Nigeria
Nationality:
  Nigerian / American
Physical stats
Listed height:
 7 ft 0 in (2.13 m)
Listed weight:
 255 lbs (116 kg)
Professional basketball career
No. 34
Position:
 Center
NBA Draft:
 1984 / Round: 1 / Pick: 1st
Debut: 1984 for the Houston Rockets
Debut: 2003 for the Toronto Raptors
College basketball career
High school:
 Muslim Teachers College (Nigeria)
College:
 Houston (1981-1984)
Career history
As player:
Career highlights and awards

2× NBA champion (1994, 1995)
2× NBA Finals MVP (1994, 1995)
12× NBA All-Star (1985–1990, 1992–1997)
6× All-NBA First Team (1987–1989, 1993, 1994, 1997)
3× All-NBA Second Team (1986, 1990, 1996)
3× All-NBA Third Team (1991, 1995, 1999)
2× NBA Defensive Player of the Year (1993, 1994)
5× NBA All-Defensive First Team (1987, 1988, 1990, 1993, 1994)
4× NBA All-Defensive Second Team (1985, 1991, 1996, 1997)
NBA All-Rookie First Team (1985)
2× NBA rebounding leader (1989, 1990)
3× NBA blocks leader (1990, 1991, 1993)
Consensus first-team All-American (1984)
NCAA rebounding leader (1984)
SWC Player of the Year (1984)
NCAA Final Four Most Outstanding Player (1983)
No. 34 retired by the Houston Cougars
Hakeem Abdul Olajuwon (born January 21, 1963) nicknamed "The Dream", is a Nigerian-American former professional basketball player.
Olajuwon played 18 years in the National Basketball Association for the Houston Rockets and the Toronto Raptors. He led the Rockets to back-to-back championships in 1994 and 1995. In 2008, he was inducted into the Basketball Hall of Fame, and in 2016, he was inducted into the FIBA Hall of Fame. Listed at 7 ft 0 in (2.13 meters), Olajuwon is considered one of the greatest centers to ever play the game. He was nicknamed "The Dream" after he dunked so effortlessly that his college coach said that it "looked like a dream".
Born in Lagos, Nigeria, Olajuwon traveled from his home country to play basketball for the University of Houston under Guy Lewis. His college career for the Cougars included 3 trips to the Final Four. Liaison was drafted by the Houston Rockets in the 1984 NBA Draft that included Michael Jordan, Charles Barkley, and John Stockton. He combined with the 7 ft 4 in Ralph Sampson to form a duo dubbed "The Twin Towers". The two led the Rockets to the 1986 NBA Finals, where they lost in 6 games to the Boston Celtics. After Sampson was traded to the Golden State Warriors in 1988, Olajuwon became the Rockets' undisputed leader. He led the league in rebounds twice (1989, 1990) and led the league in blocks 3 times (1990, 1991, 1993).
Despite very nearly traded during a bitter contract dispute before the 1992-1993 season, he remained in Houston where in 1993-1994, he became the only player in NBA History to win the NBA MVP, Defensive Player of the Year, and NBA Finals MVP in the same season. His Rockets won back-to-back championships against Patrick Ewing's New York Knicks (avenging his college championship loss to Ewing) and Shaquille O'Neal's Orlando Magic in 1994 and 1995 respectively. Olajuwon was a member of the 1996 Gold Medal Winning USA Basketball team and was selected as one of the 50 Greatest Players in NBA History. He ended his career as the NBA's all time leader in blocks, 3,830, and is one of the 4 players to ever record a quadruple-double.
Early Life
Hakeem Olajuwon was born to Salim and Abike Olajuwon, working-class Yoruba owners of a cement business in Lagos, Nigeria. He was the third of eight children. He credits his parents with instilling virtues of hard work and discipline into him and his siblings: "They taught us to be honest, work hard, respect our elders, and believe in ourselves." Olajuwon has expressed displeasure at his childhood in Nigeria being characterized as backward. "Lagos is a very cosmopolitan city ... There are many ethnic groups. I grew up in an environment at schools where there were all different types of people."
During his youth, Olajuwon was a soccer goalkeeper, which helped give him the footwork and agility to balance his size and strength in basketball, and also contributed to his shot-blocking ability. Olajuwon did not play basketball until the age of 15 in high school, when he entered a local tournament while at the Muslim Teachers College in Lagos, Nigeria. It has been said that a coach in Nigeria once asked him to dunk and demonstrated while standing on a chair. Olajuwon then tried to stand on the chair himself. When redirected by staff not to use the chair, Hakeem could initially not dunk the basketball.
Despite early struggles, Olajuwon said: "Basketball is something that is so unique. That immediately I pick up the game and, you know, realize that this is the life for me. All the other sports just become obsolete."
College career
Olajuwon emigrated from Nigeria to play basketball at the University of Houston under Cougars coach Guy Lewis. Olajuwon was not highly recruited and was merely offered a visit to the university to work out for the coaching staff, based on a recommendation from a friend of Lewis who had seen Olajuwon play. He later recalled that when he originally arrived at the airport in 1980 for the visit, no representative of the school was there to greet him. When he called the staff, they told him to take a taxi out to the university.
After redshirting his freshman year in 1980–81 because he could not yet get clearance from the NCAA to play, Olajuwon came mostly off the bench and served as the Cougars' sixth man as a redshirt freshman in 1981–82, averaging 8.3 points, 6.2 rebounds and 2.5 blocks, shooting 60% from the field in 18 minutes per game as Houston was eliminated in the Final Four by the eventual NCAA champion, North Carolina. Olajuwon sought advice from the coaching staff about how to increase his playing time, and they advised him to work out with local Houston resident and multiple NBA MVP winner, Moses Malone. Malone, who was then a center on the NBA's Houston Rockets, played games every off-season with several NBA players at the Fonde Recreation Center. Olajuwon joined the workouts and went head to head with Malone in several games throughout the summer. Olajuwon credited this experience with rapidly improving his game: "The way Moses helped me is by being out there playing and allowing me to go against that level of competition. He was the best center in the NBA at the time, so I was trying to improve my game against the best."
Olajuwon returned from that summer a different player. He was nicknamed "the Dream" during his basketball career after he dunked so effortlessly that his college coach said it "looked like a dream." He and his teammates (including Clyde Drexler) formed what was dubbed "Phi Slama Jama", the first slam-dunking "fraternity", so named because of its above-the-rim prowess. In his sophomore and junior years he helped the Cougars advance to consecutive NCAA championship games, where they lost to North Carolina State on a last-second tip-in in 1983 and a Patrick Ewing-led Georgetown team in 1984. He averaged 13.9 points, 11.4 rebounds, and 5.1 blocks in 1982–83 and 16.8 points, 13.5 rebounds, and 5.6 blocks in 1983–84. Olajuwon won the 1983 NCAA Tournament Player of the Year award, even though he played for the losing team in the final game. To date, he is the last player from a losing side to be granted this honor. Drexler departed for the NBA in 1983, leaving Olajuwon the lone star on the team.
After the 1983–84 season, Olajuwon debated whether to stay in college or declare early for the NBA draft. At that time, before the NBA Draft Lottery was introduced in 1985, the first pick was awarded by coin flip. Olajuwon recalled: "I really believed that Houston was going to win the coin flip and pick the first draft choice, and I really wanted to play in Houston so I had to make that decision (to leave early)." His intuition proved correct, and a lucky toss placed Houston ahead of the Portland Trail Blazers. Olajuwon was considered the top amateur prospect in the summer of 1984 over fellow collegians and future NBA stars Michael Jordan, Charles Barkley, and John Stockton, and was selected first overall by the Rockets in the 1984 NBA draft.
In his autobiography Living the Dream, Olajuwon mentions an intriguing draft trade offered to the Rockets that would have sent Clyde Drexler and the number two pick in the 1984 NBA draft from Portland in exchange for Ralph Sampson. Had the Rockets made the deal, Olajuwon states the Rockets could have selected Jordan with the number two pick to play alongside Olajuwon and Drexler, who had established chemistry playing together during their Phi Slama Jama days in college. Sportswriter Sam Smith speculates that such a trade "would have changed league history and maybe the entire Michael Jordan legend." From 1991 to 1998, every NBA championship team included either Jordan or Olajuwon; furthermore, at least one of Drexler, Jordan, and Olajuwon was involved in every NBA Finals from 1990 to 1998.
NBA career
Houston Rockets (1984–2001)
Rookie and second years (1984–1986)
The Rockets had immediate success during Olajuwon's rookie season, as their win-loss record improved from 29–53 in 1983–84 to 48–34 in 1984–85. He teamed with the 1984 Rookie of the Year, 7 ft 4 in (2.24 m) Ralph Sampson to form the original NBA "Twin Towers" duo. Olajuwon averaged 20.6 points, 11.9 rebounds and 2.68 blocks in his rookie season. He finished as runner-up to Michael Jordan in the 1985 Rookie of the Year voting, and was the only other rookie to receive any votes.
Olajuwon averaged 23.5 points, 11.5 rebounds, and 3.4 blocks per game during his second pro season (1985–86). The Rockets finished 51–31, and advanced all the way to the Western Conference Finals where they faced the defending NBA champion Los Angeles Lakers. The Rockets won the series fairly easily, upsetting the Lakers four games to one, shocking the sports world and landing Olajuwon on the cover of Sports Illustrated. Olajuwon scored 75 points in victories in games three and four, and after the series Lakers coach Pat Riley remarked "We tried everything. We put four bodies on him. We helped from different angles. He's just a great player." The Rockets advanced to the 1986 NBA Finals where they lost in six games to the Boston Celtics, whose 1986 team is often considered one of the best teams in NBA history.
Mid-career years (1987–1993)
During the 1987–88 season, Sampson (who was struggling with knee injuries that would eventually end his career prematurely) was traded to the Golden State Warriors. The 1988–89 season was Olajuwon's first full season as the Rockets' undisputed leader. This change also coincided with the hiring of new coach Don Chaney. The Rockets ended the regular season with a record of 45–37, and Olajuwon finished the season as the league leader in rebounds (13.5 per game) by a full rebound per game over Charles Barkley. This performance was consistent with his averages of 24.8 points and 3.4 blocks. Olajuwon posted exceptional playoff numbers of 37.5 ppg and 16.8 rpg, plus a record for points in a four-game playoff series (150). Nevertheless, the Rockets were eliminated in the first round by the Seattle SuperSonics, 3 games to 1.
The 1989–90 season was a disappointment for the Rockets. They finished the season with a 41–41 record, and though they made the playoffs, were eliminated in four games by the Los Angeles Lakers. Olajuwon put up one of the most productive defensive seasons by an interior player in the history of the NBA. He won the NBA rebounding crown (14.0 per game) again, this time by an even larger margin; a full two rebounds per game over David Robinson, and led the league in blocks by averaging 4.6 per game. He is the only player since the NBA started recording blocked shots in 1973–74 to average 14+ rebounds and 4.5+ blocked shots per game in the same season. In doing so he joined Kareem Abdul-Jabbar and Bill Walton as the only players in NBA history (at that point) to lead the league in rebounding and shot-blocking in the same season. Olajuwon also recorded a quadruple-double during the season, becoming only the third player in NBA history to do so.
The Rockets finished the 1990–91 season with a record of 52–30 under NBA Coach of the Year Chaney. Olajuwon averaged 21.8 points per game in 1990–91, but due to an injury to his eye socket caused by an elbow from Bill Cartwright, did not play in enough games (56) to qualify for the rebounding title. Otherwise, he would have won it for a third consecutive year, averaging 13.8 a game (league leader Robinson averaged 13.0 rpg). He also averaged a league-leading 3.95 blocks per game. However, the Rockets were swept in the playoffs by the Los Angeles Lakers, who would go on to the NBA Finals, where they lost to the Chicago Bulls.
The following season was a low point for the Rockets during Olajuwon's tenure. They finished 42–40, and missed the playoffs for the first time in Olajuwon's career. He missed two weeks early in the season due to an accelerated heartbeat. Despite his usual strong numbers, he could not lift his team out of mediocrity. Since making the Finals in 1986, the Rockets had made the playoffs five times, but their record in those playoff series was 1–5 and they were eliminated in the first round four times. Following the season, Olajuwon requested a trade in part because of his bad contract; his salary was considerably low for a top center, and his contract specifically forbade re-negotiation. He also expressed displeasure with the organization's efforts to surround him with quality players. He felt the Rockets had cut corners at every turn, and were more concerned with the bottom line than winning. Management had also infuriated Olajuwon during the season when they accused of him of faking a hamstring injury because of his unhappiness over his contract situation. His agent cited his differences with the organization as being "irreconcilable", and Olajuwon publicly insulted owner Charlie Thomas and the team's front office. With the 1992–93 season approaching, a reporter for the Houston Chronicle said that Olajuwon being dealt was "as close to a sure thing as there is."
Nonetheless, he was not traded and the Rockets began the season with a new coach, Rudy Tomjanovich. Olajuwon improved his passing in 1992–93, setting a new career-high of 3.5 assists per game. This willingness to pass the ball increased his scoring, making it more difficult for opposing teams to double and triple-team him. Olajuwon set a new career-high with 26.1 points per game. The Rockets set a new franchise record with 55 wins, and advanced to the second round of the playoffs, pushing the Seattle SuperSonics to a seventh game before losing in overtime, 103–100. He finished second in the MVP race to Charles Barkley with 22 votes to Barkley's 59. The team rewarded him with a four-year contract extension toward the end of the regular season. In stark contrast to the previous year, the Rockets entered the 1993–94 season as a team on the rise. They had a solid core of young players and veterans, with a leader in Olajuwon who was entering his prime.
Championship years (1994–1995)
Olajuwon gained a reputation as a clutch performer and also as one of the top centers in history based on his performances in the 1993–94 and 1994–95 seasons. He outplayed centers such as Patrick Ewing, David Robinson, Shaquille O'Neal, and Dikembe Mutombo, and other defensive stalwarts such as Dennis Rodman and Karl Malone. Many of his battles were with his fellow Texas-based rival David Robinson of the San Antonio Spurs. In the 30 head–to–head match-ups during the seven seasons from the 1989 to 1996, when both Olajuwon and Robinson were in their prime, Olajuwon averaged 26.3 points per game, shooting 47.6% from the field, while Robinson averaged 22.1 and 46.8%.
Olajuwon led the Rockets to a championship in the 1994 NBA Finals in a seven-game series against the New York Knicks, the team of one of Olajuwon's perennial rivals since his collegiate days, Patrick Ewing. After being down 2–1, the Knicks took a 3–2 lead into Game 6. The Rockets were defending an 86–84 lead when in the last second, Knicks guard John Starks (who had already scored 27 points) went up for what would have been a Finals-winning three. Olajuwon pulled off a clutch play by blocking the shot as time expired. In Game 7, Olajuwon posted a game–high 25 points and 10 rebounds, which helped defeat the Knicks, bringing the first professional sports championship to Houston since the Houston Oilers won the American Football League championship in 1961. Olajuwon dominated Ewing in their head–to–head match-up, outscoring him in every game of the series and averaging 26.9 points per game on 50% shooting, compared to Ewing's 18.9 and 36.3%. For his efforts Olajuwon was named NBA Finals Most Valuable Player.
Olajuwon was at the pinnacle of his career. In 1994, he became the only player in NBA history to win the MVP, the Championship, the Finals MVP and Defensive Player of the Year awards in the same season. He was also the first foreign-born player to win the league's MVP award.
On December 1, 1994, Olajuwon recorded a triple-double 37 points, 13 rebounds and 12 assists in a 113–109 win over the Golden State Warriors. But despite a slow start by the team, and Olajuwon missing eight games toward the end of the season with anemia, the Rockets repeated as champions in 1995. They were bolstered in part by the acquisition of Clyde Drexler, Olajuwon's former University of Houston "Phi Slama Jama" teammate, in a mid-season trade from the Portland Trail Blazers. Olajuwon averaged 27.8 points, 10.8 rebounds, and 3.4 blocks per game during the regular season. Olajuwon displayed perhaps the most impressive moments of his career during the playoffs. San Antonio Spurs center David Robinson, recently crowned league MVP, was outplayed by Olajuwon in the Conference Finals: Olajuwon averaged 35.3 points on .560 shooting (Robinson's numbers were 23.8 and .449) and outscored Robinson 81–41 in the final two games. In the series-clinching game, Olajuwon recorded 39 points, 17 rebounds and 5 blocks. When asked later what a team could do to "solve" Olajuwon, Robinson told LIFE magazine: "Hakeem? You don't solve Hakeem." The Rockets won every road game that series. In the NBA Finals, the Rockets swept the Orlando Magic, who were led by a young Shaquille O'Neal. Olajuwon outscored O'Neal in every game, scoring more than 30 points in each and raising his regular-season rate by five while O'Neal's production dropped by one. Olajuwon was again named Finals MVP. He averaged 33.0 points on .531 shooting, 10.3 rebounds, and 2.81 blocks in the 1995 Playoffs. As in 1994, Olajuwon was the only Rockets All-Star.
Post-championship period (1996–2001)
The Rockets' two-year championship run ended when they were eliminated in the second round of the 1996 NBA Playoffs by the eventual Western Conference Champion Seattle SuperSonics. Michael Jordan had returned from an 18-month hiatus in March 1995, and his Chicago Bulls dominated the league once again for the next three years (1996–98). The Bulls and Rockets never met in the NBA Playoffs. The Rockets posted a 57–win season in 1996–97 season when they added Charles Barkley to their roster. They started the season 21–2, but lost the Western Conference Finals in six games to the Utah Jazz. After averaging 26.9 and 23.2 points in 1995–96 and 1996–97 respectively, Olajuwon's point production dipped to 16.4 in 1997–98. After the Rockets lost in the first round in five games to the Utah Jazz in 1998, Drexler retired. In 1998–99, the Rockets acquired veteran All-Star Scottie Pippen and finished 31–19 in the lockout-shortened regular season. Olajuwon's scoring production rose to 18.9 points per game, and he made his twelfth and final All-NBA Team. However, they lost in the first round again, this time to the Los Angeles Lakers. After the season, amidst beef between him and Barkley, a disgruntled Pippen was traded to the Portland Trail Blazers.
Toronto Raptors (2001–2002)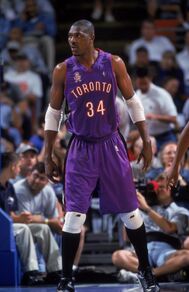 Houston began to rebuild, bringing in young guards Cuttino Mobley and 2000 NBA co-Rookie of the Year Steve Francis.
On August 2, 2001, after refusing a $13 million deal with the Rockets, Olajuwon was traded to the Toronto Raptors for draft picks (the highest of which was used by Houston to draft Boštjan Nachbar at #15 in the 2002 NBA draft), with the player having a three-year contract that would give him $18 million. In his first game with the Raptors, he scored 11 points in just 22 minutes of playing time against the Magic. Olajuwon averaged career lows of 7.1 points and 6.0 rebounds per game in what would be his final season in the NBA, as he decided to retire in the fall of 2002, due to a back injury.
Olajuwon retired as the all–time league leader in total blocked shots with 3,830, although shot-blocking did not become an official statistic until the 1973–74 NBA season.
Shortly after his retirement, his #34 jersey was retired by the Rockets.
For his NBA career, Olajuwon averaged 21.8 points on 51% shooting, 11.1 rebounds, 2.5 assists and 3.1 blocks in 1238 career games.
Honors
2x NBA Champion
1994 NBA MVP
12x NBA All-Star
2× NBA Defensive Player of the Year
6× All-NBA First Team
3× All-NBA Second Team
3× All-NBA Third Team
5× NBA All-Defensive First Team
4× NBA All-Defensive Second Team
NBA All-Rookie Team (1985)
NBA's 50th Anniversary All-Time Team
See Also