Earl Joseph "J.R." Smith III (born September 9, 1985) is an American former professional basketball player.
He played high school basketball at New Jersey basketball powerhouse Saint Benedict's Preparatory School in Newark. He entered the NBA out of high school after being selected in the first round of the 2004 NBA Draft with the 18th overall pick by the New Orleans Hornets. He has also played for the Denver Nuggets, New York Knicks, Cleveland Cavaliers, and Los Angeles Lakers, as well as for the Zhejiang Golden Bulls of the Chinese Basketball Association. In 2016, Smith won an NBA championship with the Cavaliers, and later won another championship in 2020 with the Lakers, playing with LeBron James in both of them.
High School
Before attending high school, Smith attended Millstone Middle School and graduated in 1999. From there, he moved on to Steinert High School and McCorristin Catholic High School before transferring to Lakewood High School. Smith played high school basketball for the first time at Lakewood High School. He would later transfer to Saint Benedict's Preparatory School and play basketball there as well. During his career there, he would average over 27 points, 6 rebounds, and 5 assists. In the Fall of 2003, Smith signed a letter of intent to play at the University of North Carolina at Chapel Hill.
In April 2004, following a 25-point performance at the McDonald's All-American Game (in which he was named game co-MVP with Dwight Howard), Smith decided to forgo college and declare himself eligible for the NBA Draft.
Professional career
J.R. was selected eighteenth overall, in the first round of the 2004 NBA Draft, by the New Orleans Hornets—one of nine players who were drafted that year straight out of high school.
New Orleans Hornets (2004–2006)
In his rookie season, Smith averaged 10.3 points, 2.0 rebounds, and 1.9 assists per game. Smith participated in the Sprite Rising Stars Slam Dunk Competition in 2005, finishing behind Amar'e Stoudemire and the eventual winner, Josh Smith. The Hornets finished the season at 18–64 and failed to qualify for the playoffs. Smith was named the Western Conference Rookie of the Month three consecutive times in January-March of 2005.
In his second season in New Orleans, Smith saw his numbers decline across the board, averaging 7.7 points, 2 rebounds, and 1.1 assists. The Hornets spent part of the season in Oklahoma City because of Hurricane Katrina. The Hornets finished 38–44, helped by the playmaking ability of rookie Chris Paul; despite the 20-game improvement, they still missed the playoffs.
Denver Nuggets (2006–2011)
On July 14, 2006, the Hornets traded Smith and forward–center P.J. Brown to the Chicago Bulls for center Tyson Chandler. On July 20, Smith was traded again, this time to the Denver Nuggets for guard Howard Eisley and two 2007 second-round draft picks.
On December 16, 2006, Smith was involved in the Knicks–Nuggets brawl. The brawl began when Mardy Collins flagrantly fouled Smith on a fast break. Smith was suspended for 10 games. On February 20, 2007, Smith suffered a torn meniscus in his left knee which required knee surgery. He missed several weeks. Smith averaged 13 points, 2.3 rebounds, and 1.4 assists in his first season with the Nuggets.
Smith's first trip to the playoffs during the 2006-07 season, with the Nuggets, proved disappointing. Smith, a 39% three-point shooter during the regular season, failed to connect on any three-point shots in the first four games and was criticized for poor decision-making by coach George Karl. After game four, Karl informed reporters of his plan to bench Smith for all of game 5. Karl said, "He's done", and explained his frustrations over Smith's poor judgment to shoot a three late in the game, "I have no idea what planet that came from." Karl told the Associated Press that he had drawn up the play to give the ball to either Allen Iverson or Carmelo Anthony. Karl did not stop there and continued venting over Smith's poor play, "And then, of course the one with eight seconds to go, from 50 feet, I just love the dignity of the game being insulted right in front of me."
On October 13, 2007, Smith was involved in an incident at a Denver nightclub. The Nuggets suspended him for the first three regular season games of 2007-08 season for his role in the incident. During the season, Smith averaged 12.3 points, 2.1 rebounds, and 1.7 assists.
During the 2007–08 season, Smith established career highs for field goal percentage (.461) and 3-point percentage (.403). During the 2008–09 season, he averaged 15.2 points over 81 games (18 starts), finishing second in voting for the NBA Sixth Man of the Year Award behind Jason Terry. In February 2009, he participated in the NBA Slam Dunk Contest, finishing third. On April 13, 2009, Smith had a career-high 45 points and franchise-best 11 3-pointers to help the Nuggets clinch the Northwest Division title and home-court edge in the playoffs for the first time in 21 years with a 118–98 win over the Sacramento Kings.
On December 23, 2009, Smith scored a season-high 41 points against the Atlanta Hawks, becoming first NBA player ever to record multiple games of 10+ 3-pointers. He finished the 2009–10 season averaging a then career-high 15.4 points per game. In 2010–11, he averaged 12.3 points and 2.2 assists as the Nuggets' sixth man. Smith's tenure with the Nuggets ended in September 2011 due to the NBA lockout. A fan favorite in Denver for his 3-point shooting and electric dunks, Smith often drew the ire of coach George Karl for his befuddling shot selection.
Zhejiang Golden Bulls (2011–2012)
In September 2011, due to the NBA lockout, Smith signed a one-year deal with the Zhejiang Golden Bulls of the Chinese Basketball Association (CBA). In accordance with CBA rules, Smith's contract with the Golden Bulls did not include an opt-out clause that would allow him to return to the NBA following the conclusion of the lockout. His deal was estimated to be worth around $3 million, the highest in league history. In 32 games for Zhejiang, he averaged 34.4 points, 7.4 rebounds, 4.1 assists, and 2.5 steals per game. On February 1, 2012, he scored a season-high 60 points with 14 3-pointers in a 122–110 win over the Qingdao Eagles. He had four 50+ point games during the season.
New York Knicks (2012–2015)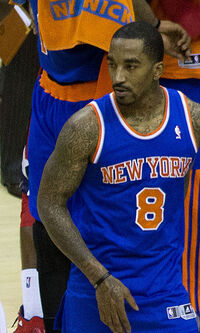 On February 17, 2012, Smith signed with the New York Knicks. He appeared in 35 games for the Knicks to finish the regular season, before appearing in all five of the Knicks' postseason games.
On July 11, 2012, Smith re-signed with the Knicks. In 2012–13, he averaged a career-high 18.1 points, 5.3 rebounds and 2.7 assists over 33.5 minutes in 80 games off the bench. He earned Eastern Conference Player of the Week honors for the period ending March 31, after posting three consecutive 30-point efforts off the bench, becoming the first NBA player to accomplish the feat in over 23 years. He was subsequently named the NBA Sixth Man of the Year, becoming just the third player in franchise history to win the award, joining Anthony Mason and John Starks.
On July 11, 2013, Smith re-signed with the Knicks. He missed the first five games of the 2013–14 season for violating the NBA's anti-drug policy. On March 26, he hit nine 3-pointers against the Sacramento Kings, tying the Knicks' franchise record. On April 4, he scored a season-high 32 points with eight 3-pointers in a 90–89 loss to the Washington Wizards. Two days later, in a 102–91 loss to the Miami Heat, Smith broke an NBA record of 21 three-pointers taken in a single game, a mark set in 2005 by Damon Stoudamire. Smith hit 10 of 22 3-point shots against the Heat, setting a franchise record for 3-pointers made and finishing with 32 points for the second straight game.
Cleveland Cavaliers (2015–2019)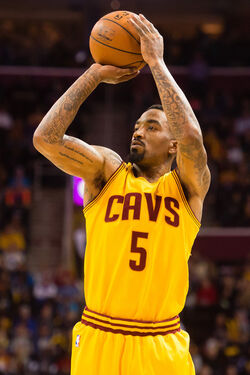 On January 5, 2015, Smith was acquired by the Cleveland Cavaliers in a three-team trade that involved the Knicks and the Oklahoma City Thunder. On April 27, 2015, Smith was suspended for the first two games of the Eastern Conference semifinals after he swung his arm and made contact with the head of Boston Celtics forward Jae Crowder in Game 4 of their first-round series against Boston. In Game 1 of the Eastern Conference finals against the top-seeded Atlanta Hawks, Smith made eight 3-pointers and scored 28 points in a 97–89 victory. He helped the Cavaliers sweep the Hawks to reach the NBA Finals, where they lost to the Golden State Warriors in six games. During Cleveland's NBA Finals run in the 2015 playoffs, Smith appeared in 18 games (four starts), averaging 12.8 points and 4.7 rebounds in 31.1 minutes per game.
On September 2, 2015, Smith re-signed with the Cavaliers. Smith played in 77 games (all starts) with Cleveland in the 2015–16 regular season, averaging 12.4 points, 2.8 rebounds, and 1.1 steals in 30.7 minutes. He ranked seventh in the league in 3-pointers made (204), setting a franchise single-season record. He also shot .400 from beyond the arc, which was tied for 18th-best in the NBA. Smith led Cleveland in steal-to-turnover ratio (1.37) and scored 10 or more points 50 times and 20 or more points 11 times. During Cleveland's playoff run, Smith started in all 21 games, averaging 11.5 points, 3.2 rebounds, and 1.2 steals in 34.8 minutes per game. He made a franchise playoff-record 65 3-pointers, which were also the fourth-most threes made by any NBA player in a single postseason. Smith scored in double figures in each of the last five games of the NBA Finals, as Cleveland went 4–1 over that stretch against the defending NBA champion Golden State Warriors, becoming the first team in NBA Finals history to come back from a 3–1 series deficit, and took home the franchise's first ever NBA title.
On October 15, 2016, Smith re-signed with the Cavaliers. After a contract stalemate that had consumed nearly the first three weeks of training camp, Smith and the Cavaliers reached an agreement on a four-year deal worth $57 million. On November 1, in a win over the Houston Rockets, Smith hit his 344th three-pointer, passing Damon Jones for ninth place on the team's all-time list. On November 18, he hit three 3-pointers against the Detroit Pistons to move past Dirk Nowitzki into 15th place on the NBA's career list for 3-pointers. On December 13, Smith, having been in a season-long shooting slump, scored 17 of his season-high 23 points in the first half of the Cavaliers' 103–86 win over the Memphis Grizzlies. He came into the game shooting a career-low 31 percent from the field and 32 percent on 3-pointers, the lowest mark since his rookie season with New Orleans. He finished the game with 8-of-17 from the field and 6-of-10 on 3s, passing Dale Ellis (1,719) for 14th on the career three-pointer list. On December 20, in a win over the Milwaukee Bucks, Smith suffered a fractured right thumb that required surgery. Three days later, he was ruled out for 12–14 weeks. He made his return to the line-up on March 9 against the Detroit Pistons. Smith helped the Cavaliers go 12–1 over the first three rounds of the playoffs to reach the NBA Finals for a third straight season. There, the Cavaliers faced the Golden State Warriors for a third consecutive season in the Finals, but lost the series in five games.
Smith struggled over the first 10 games of the 2017–18 season. He got it going on November 7, scoring a season-high 20 points on 5-of-7 3-pointers in a 124–119 win over the Milwaukee Bucks, passing Rashard Lewis (1,787) for 14th place on the NBA's career 3-pointers made list. On December 14, in a 121–112 win over the Los Angeles Lakers, Smith passed Chauncey Billups (1,830) for 11th place on the NBA's career 3-pointers made list. On March 2, 2018, Smith was suspended by the Cavaliers for one game for throwing a bowl of soup at an assistant coach. During Game 1 of the NBA Finals against the Golden State Warriors, their fourth consecutive Finals meeting, Smith got a free-throw rebound with 4.7 seconds left in regulation time. The game was tied, meaning that a field goal would have won the game. Smith, apparently confused and thinking that the Cavaliers were winning, attempted to dribble out the clock before realizing his error and passing to George Hill with 1.2 seconds left, but Hill's shot was blocked by Draymond Green. The Cavaliers lost 124–114 in overtime. In a post-game interview, Smith initially claimed to have known it was a tie game. He later backtracked, saying, "After thinking about it a lot... I can't say I was sure of anything at that point." The Cavaliers went on to lose the series in a four-game sweep.
Cleveland began the 2018–19 season with a 2–13 record after LeBron James left the team (for the second time) in free agency for the Los Angeles Lakers. Head coach Tyronn Lue had been fired after an 0–6 start, the team was suffering injuries to All-Star Kevin Love and others, and Smith's role had been reduced. On November 20, 2018, the Cavaliers announced that Smith "will no longer be with team as the organization works with J.R. and his representation regarding his future." A day earlier, he had accused the team of not trying to win, saying their goal was to "develop [young players] and lose to get lottery picks."
On July 15, 2019, he was waived by the Cavaliers.
Los Angeles Lakers (2020)
On June 29, 2020, J.R. Smith was reportedly signed by the Los Angeles Lakers for the 2019-20 season. He reunited with former Cavaliers teammate LeBron James, and would go on to win his second NBA championship over the Miami Heat in six games – both times as a teammate of LeBron.
Retirement
On August 11, 2021, J.R. Smith enrolled at North Carolina A&T State University with plans to join the Aggies golf team, effectively ending his career in the NBA.
Gallery