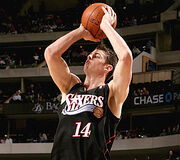 Jason Victor Smith (born March 2, 1986, in Kersey, Colorado) is an American Power Forward who plays for the New York Knicks of the NBA. Smith prepped at Platte Valley High School in Colorado, where he was a two-time state player of the year. He then went on to play collegiately at Colorado State University.
College highlights
Earned First Team All-Mountain West Conference honors his sophomore and junior seasons.
Named All-District by the NABC.
Currently ranks ninth on Colorado State's all-time leading scoring list with 1,281 points.
Also ranks sixth in rebounds (683) and fifth in blocked shots (149).
Has recorded 24 career double-doubles, the second-most in school history.
NBA career
Philadelphia 76ers
Smith was drafted by the Miami Heat but traded subsequently to the Philadelphia 76ers for shooting guard Daequan Cook on June 28, 2007 on a draft night trade. Smith played a total of nine games in the 2007 NBA Summer League and the Rocky Mountain Revue, averaging 9.9 points (43.0% FGs, 72.4% FTs), 6.0 rebounds and 1.0 assists in 26.1 minutes per game. On August 8, 2008, Sixers GM Ed Stefanski announced that Jason tore the ACL in his left knee during a Sixers camp in Las Vegas.[1]
New Orleans Hornets
Smith was traded to New Orleans with guard Willie Green in exchange for forward Darius Songaila and rookie forward Craig Brackins on September 23, 2010.[2]
New York Knicks
...
NBA career statistics
Regular season
| Year | Team | GP | GS | MPG | FG% | 3P% | FT% | RPG | APG | SPG | BPG | PPG |
| --- | --- | --- | --- | --- | --- | --- | --- | --- | --- | --- | --- | --- |
| 2007–08 | Philadelphia | 76 | 1 | 14.6 | .455 | .286 | .659 | 3.0 | .3 | .3 | .7 | 4.5 |
| 2009–10 | Philadelphia | 56 | 2 | 11.8 | .431 | .345 | .690 | 2.4 | .6 | .4 | .5 | 3.4 |
| Career | | 132 | 3 | 13.4 | .446 | .326 | .669 | 2.8 | .4 | .3 | .6 | 4.0 |
Playoffs
| Year | Team | GP | GS | MPG | FG% | 3P% | FT% | RPG | APG | SPG | BPG | PPG |
| --- | --- | --- | --- | --- | --- | --- | --- | --- | --- | --- | --- | --- |
| 2007–08 | Philadelphia | 6 | 0 | 13.7 | .444 | .000 | 1.000 | 2.5 | .5 | .2 | .8 | 3.3 |
| Career | | 6 | 0 | 13.7 | .444 | .000 | 1.000 | 2.5 | .5 | .2 | .8 | 3.3 |
References