Jeffrey Lynn Green (born August 28, 1986) is an American professional basketball player who plays for the Denver Nuggets. He played three seasons of college basketball for the Georgetown Hoyas, before entering the 2007 NBA Draft, where he was selected fifth overall by the Boston Celtics, but was subsequently traded to the Seattle SuperSonics.
College career
Professional career
Seattle SuperSonics / Oklahoma City Thunder (2007–2011)
On June 28, 2007, Green was selected with the fifth overall pick in the 2007 NBA Draft by the Boston Celtics. He was later traded to the Seattle SuperSonics alongside Wally Szczerbiak and Delonte West in exchange for Ray Allen and Glen Davis.
Boston Celtics (2011–2015)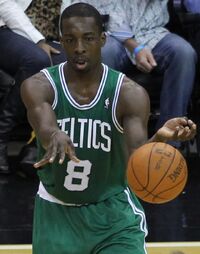 On February 24, 2011, Green was traded, along with Nenad Krstić and a 2012 first-round pick, to the Boston Celtics in exchange for Kendrick Perkins and Nate Robinson.
Memphis Grizzlies (2015–2016)
On January 12, 2015, Green was traded to the Memphis Grizzlies in a three-team deal involving the Celtics and the New Orleans Pelicans.
Los Angles Clippers (2016)
On February 18, 2016, Green was traded to the Los Angeles Clippers in exchange for Lance Stephenson and a future protected first-round pick.
Orlando Magic (2016–2017)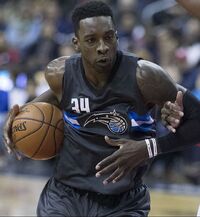 On July 7, 2016, Green signed with the Orlando Magic.
Cleveland Cavaliers (2017–2018)
On July 11, 2017, Green signed with the Cleveland Cavaliers. He lead the team to the Finals, but lost to the Golden State Warriors in a sweep.
Washington Wizards (2018–2019)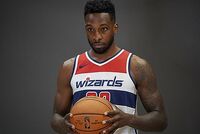 On July 10, 2018, Green signed with his hometown team the Washington Wizards.
Utah Jazz (2019)
On July 20, 2019, Green signed with the Utah Jazz. On December 24, the Jazz waived Green.
Houston Rockets (2020)
On February 18, 2020, Green was signed by the Houston Rockets to a 10-day contract. On February 28, 2020, the Houston Rockets announced that they had signed Green for the remainder of the season.
Brooklyn Nets (2020–2021)
On November 23, 2020, Green signed with the Brooklyn Nets.
Denver Nuggets (2021-present)
On August 2, 2021, Green signed a two-year deal with the Denver Nuggets.
External links