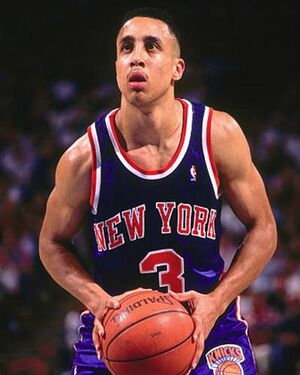 John Levell Starks (Born August 10, 1965) was a former professional basketball player. Starks was listed as 6'5" and 190 pounds. Although he was not drafted in the 1988 NBA Draft after attending four colleges in Oklahoma, he gained fame while playing for the New York Knicks.
Career
Although he was passed over in the draft, Starks signed with the Golden State Warriors in September 1988 as a free agent. He was waived a year later and played for the CBA. In 1990, he tried out for the New York Knicks. In a practice, he once tried to dunk on Patrick Ewing. Ewing threw him down and Starks twisted his knees. The team was not allowed to release him unless it healed by the end of December. When it did not healed, the Knicks could not release him. As a result, Starks referred to Ewing as his "Saving Grace". He eventually become the starting shooting guard for the Knicks. He participated in the 1992 slam dunk contest.
Starks made what was one of the most famous plays in Knicks history, dubbed as "The Dunk". In game 2 of the 1993 Eastern Conference Finals against the Chicago Bulls, Starks was in the right corner of the court being closely guarded. Ewing came to set a screen for Starks, who faked to the left like he was going to use the pick, and then drove on the baseline dunking over Horace Grant.
In 1995, Pat Riley left the Knicks to go to the Miami Heat after a dispute with then General Manager Dave Checketts. The Knicks hired Don Nelson, bringing back the tensions from Stark's first season in Golden State. Nelson started Hubert Davis over Starks. Nelson was eventually fired mid-season, and the Knicks replaced him with Jeff Van Gundy. In 1996 Allan Houston took Stark's starting spot. Stark was a steady contributor off the bench resulting him to be Named the 1996 NBA Sixth Man of the Year award. Couple of years later, Starks was traded back to his original team, the Golden State Warriors.
Community content is available under
CC-BY-SA
unless otherwise noted.