| colspan="2" style="text-align: center;" | no image ! colspan="2" style="text-align: center; font-size: 95%; color:#000000; background-color:#c0c0c0;;line-height: 2.0em;"| No. 7, 12, 17, 13 | colspan="2" style="text-align: center;" |Point guard| colspan="2" style="text-align: center;" | Date of birth:October 9, 1970 (1970-10-09) (age 49)
Queens, New York ! colspan="2" style="text-align: center; font-size: 95%; color:#000000; background-color:#c0c0c0;;line-height: 2.0em;"| Debut | colspan="2" style="text-align: center;" | 1999 for the New Jersey Nets! colspan="2" style="text-align: center; font-size: 95%; color:#000000; background-color:#c0c0c0;;line-height: 2.0em;"| Last played | colspan="2" style="text-align: center;" | 2006 for the Zalgiris Kaunas ! colspan="2" style="text-align: center; font-size: 95%; color:#000000; background-color:#c0c0c0;;line-height: 2.0em;"| Career information | colspan="2" style="text-align: center;" |College:Georgia Tech| colspan="2" style="text-align: center;" | NBA Draft:1991; Round: 1 / Pick: 2
Selected by the New Jersey Nets! colspan="2" style="text-align: center; font-size: 95%; color:#000000; background-color:#c0c0c0;;line-height: 2.0em;"| Career history ! colspan="2" style="text-align: center; font-size: 95%; color:#000000; background-color:#c0c0c0;;line-height: 2.0em;"| Career highlights and awards | colspan="2" style="text-align: left;" |
1x NBA All-Star
1989 McDonald's All American
1989-90 NCAA AP All-America (3rd)
1990-91 NCAA AP All-America (1st)
! colspan="2" style="text-align: center; font-size: 95%; color:#000000; background-color:#c0c0c0;;line-height: 2.0em;"| Medals | colspan="2" style="text-align: left;" |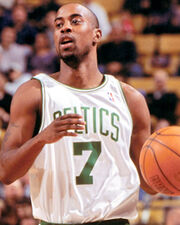 Kenneth "Kenny" Anderson is a former professional basketball point guard who played with the New Jersey Nets, Charlotte Hornets, Portland Trail Blazers, Boston Celtics, Seattle SuperSonics, New Orleans Hornets, Indiana Pacers, Atlanta Hawks, and most recently the Los Angeles Clippers in 2005.
This article related to Basketball is short. PLEASE do expand it!
Community content is available under
CC-BY-SA
unless otherwise noted.