Kobe Bryant

Bryant during a game in 2014
Personal information
Date of birth:
August 23, 1978
Place of birth:
Philadelphia, Pennsylvania
Nationality:
American
Height: 6 ft 6 in
Weight: 212 lbs
Professional debut
Debut: 1996 for the Los Angeles Lakers
Last game:2016 for the Lakers
Career information
High school:
Lower Merion (Pennsylvania)
NBA Draft:
1996 / Round: 1 / Pick: 13th
Position:
Shooting guard
Jersey no.:
8, 24
Career history
Career highlights and awards

5× NBA champion (2000–2002, 2009–2010)
2× NBA Finals MVP (2009–2010)
NBA Most Valuable Player (2008)
15× NBA All-Star (1998, 2000–2013)
4× NBA All-Star Game MVP
(2002, 2007, 2009, 2011)
2× NBA scoring champion (2006–2007)
11× All-NBA First Team (2002–2004, 2006–2013)
2× All-NBA Second Team (2000–2001)
2× All-NBA Third Team (1999, 2005)
9× NBA All-Defensive First Team
(2000, 2003–2004, 2006–2011)
3× NBA All-Defensive Second Team (2001–2002, 2012)
NBA All-Rookie Second Team (1997)
NBA Slam Dunk Contest champion (1997)
Los Angeles Lakers all-time leading scorer
Naismith Prep Player of the Year
No. 8 and 24 retired by the Los Angeles Lakers

Kobe Bryant (born August 23, 1978) is an American retired professional basketball player who played for the Los Angeles Lakers in his entire 20-year career.
He rose to national prominence as he became the first guard in league history to be drafted out of high school, drawing comparisons to NBA legend Michael Jordan. From 2000 to 2002, the dynamic duo of Shaquille O'Neal and Bryant completed a three-peat, winning three NBA championships. However, issues between the two worsened the team. O'Neal was traded to the Miami Heat prior to the 2004-05 NBA season. Bryant and coach Phil Jackson have been leading the Lakers since.
Bryant was ranked #59 on SLAM magazine's Top 75 NBA Players of All Time in 2003.
In 2003 Bryant made headlines when he was accused of rape. The charges were eventually dropped after Bryant's accuser declined to testify.
Early life
Kobe Bryant is the youngest child and only son of Joe and Pam Bryant (they also have two daughters, Shaya and Sharia). His parents named him after the famous beef of Kobe, Japan, which they saw on a restaurant menu.[1]
When Bryant was six his father left the NBA and started playing professional basketball in Italy, where the whole family moved. Bryant acclimated to the lifestyle there and became fluent in Italian. At an early age, he learned to play soccer. He has said that if he had stayed in Italy, he would have tried to become a professional soccer player, and that his favorite team was AC Milan. At the age of 7, Bryant got his first leather basketball and it became his constant companion. He even slept with it.
In 1991, the Bryants moved back to the United States. A spectacular high school career at Lower Merion High School in the Philadelphia suburb of Lower Merion brought Bryant national recognition. While his SAT score of 1080[2] would have ensured his basketball scholarship to various top-tier colleges, the 17-year-old Bryant made the controversial decision to go directly to the NBA.
NBA career profile
1996 Draft
Before he was chosen as the 13th overall draft pick by the Charlotte Hornets in 1996, the 17-year-old Bryant had made a lasting impression on then-Lakers general manager Jerry West, who immediately foresaw potential in Bryant's basketball ability during pre-draft workouts. He went on to state that Bryant's workout were one of the best he had seen. On his continued quest to return the Lakers to championship status, West startled spectators by offering and completing the trade for starting center Vlade Divac to the Hornets for the young Kobe Bryant.
First and second season with the Lakers
During his first season with the Lakers, Bryant mostly came off the bench behind guards Eddie Jones and Nick Van Exel. Initially, he played limited minutes, but as the season continued, he began to see more playing time. He earned himself a reputation as a high-flyer and a fan-favorite by winning the 1997 Slam Dunk Contest. He also set a record 31 points in the Schick Rookie Game, erasing Jones' record of 25.
In Bryant's second season (1997-98), he received more playing time and began showing more of his abilities as a talented young guard. He was the runner-up for the NBA's Sixth Man of the Year Award, and through fan voting, he also became the youngest NBA All-Star starter.
While his statistics were impressive for his age, he was still a young guard who lacked the experience to complement Shaquille O'Neal and significantly help the team contend for a championship.
Championship years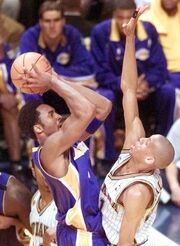 However, Bryant's fortunes would soon change when Phil Jackson became coach for the Los Angeles Lakers. After years of steady improvement, Bryant had become one of the premier shooting guards in the league, a fact that was evidenced by his annual presence in the league's All-NBA, All-Star, and All-Defensive teams. The Los Angeles Lakers became perennial championship contenders under Bryant and O'Neal, who formed an outstanding center-guard combination. Their success gave the Lakers three consecutive NBA championships in 2000, 2001, and 2002.
End of a dynasty
In the 2002-03 NBA season, Bryant averaged 30 points per game and embarked on a historic scoring run, posting 40 or more points per game in nine consecutive games while averaging 40.6 in the entire month of February. In addition, he averaged 6.9 rebounds, 5.9 assists, and 2.2 steals per game, all career highs up to that point. For the first time in his career Bryant was voted on to both--All-NBA and All-Defensive 1st teams. After finishing 50-32 in the regular season, the Lakers floundered in the playoffs and lost in the Western Conference Semi-finals to the eventual NBA champion San Antonio Spurs in six games.
In the following 2003-04 NBA season, the Lakers were able to acquire NBA legends Karl Malone and Gary Payton to make another push at the NBA Championship. With a starting lineup of four potential Hall of Fame players in Shaquille O'Neal, Malone, Payton, and Bryant, the Lakers were able to reach the NBA Finals. In the Finals, they were eliminated by the Detroit Pistons in 5 games. In that series, Bryant averaged 22.6 points per game, shooting 35.1% from the field, and 4.4 assists per game.
Conflicts and turmoil
In 2003, Bryant's reputation was tainted by a sexual assault case in which Katelyn Faber, a young woman from Colorado, accused him of rape. With his image badly tarnished, the public's perception of Bryant plummeted, and his endorsement contracts with McDonald's, Nutella, and Ferrero SpA were terminated. Sales figures from NBA merchandisers indicated that sales of replicas of Bryant's jersey fell far off of their previous highs.
In 2004, a dispute between Bryant and former teammate Malone became public prior to Malone's expected re-signing with the Lakers. Bryant claimed Malone had made inappropriate comments to Bryant's wife. Malone claimed the comments were in jest and that Bryant was overreacting [1]. In the subsequent months, rather than re-join Bryant and the Lakers, Malone turned his attention to the possibility of joining another team, but ultimately decided to retire.
Unquestioned leader
When O'Neal was traded, Bryant became leader of the team going into the 2004-05 season. As it turned out, however, his first season without O'Neal would prove to be a very forgettable one. With his reputation badly damaged from all that had happened over the previous year, Bryant was closely scrutinized and criticized during the season.
A particularly damaging salvo came from Phil Jackson in The Last Season: A Team in Search of Its Soul. The book detailed the events of the Lakers' tumultuous 2003-04 season and has a number of criticisms of Bryant. In the book Jackson also calls Bryant "uncoachable."
Then, midway through the season, Rudy Tomjanovich suddenly resigned as Lakers coach, citing the recurrence of health problems and exhaustion. Without "Rudy T," stewardship of the remainder of the Lakers' season fell to career assistant coach Frank Hamblen. Despite the fact that Bryant was the league's second leading scorer at 27.6 points per game, the Lakers floundered and missed the playoffs for the first time in over a decade. This year signified a drop in Bryant's overall status in the NBA by not making the NBA All-Defensive Team and being demoted to All-NBA Third Team.
2005-06 season
The 2005-06 NBA season would mark a crossroads in Bryant's basketball career. Despite past differences with Bryant, Phil Jackson returned to coach the Lakers. Bryant endorsed the move, and by all appearances, the two men worked together well the second time around, leading the Lakers back into the playoffs. Bryant also resolved his conflict with former teammate Shaquille O'Neal. The team posted a 45-37 record, an eleven-game improvement over the previous season, and the entire squad seemed to be clicking.
In the first round of the playoffs, the Lakers played well enough (3-1 series lead) to cum within six seconds of eliminating the second-seeded Phoenix Suns. Despite Bryant's remarkable game winning shot in Game 4, the Lakers broke down, and ultimately fell to the Suns in seven games. In the following offseason, Bryant had knee surgery, preventing him from participating in the 2006 FIBA World Championship tournament.
In many ways, the team's improvement in 2005-06 was often overshadowed by the individual scoring accomplishments posted by Bryant which resulted in the finest statistical season of his career. The season included many spectacular individual performances including a game on December 20th in which Bryant scored 62 points despite playing only three quarters against the Dallas Mavericks. Entering the fourth quarter Bryant had, by himself, outscored the entire Mavericks team 62-61, the only time a player has done this through three quarters since the advent of the 24-second shot clock. On January 22, Bryant scored 81 points,[3] in a 122-104 victory against the Toronto Raptors. In addition to breaking the previous franchise record of 71 set by Elgin Baylor, his point total in that game was the second highest in NBA history only to Wilt Chamberlain's legendary 100-point game in 1962.
Also in January, Bryant became the first player since 1964, and the only player aside from Chamberlain and Elgin Baylor, to score 45 points or more in four consecutive games. For the month of January, Bryant averaged 43.4 per game, the eighth highest single month scoring average in NBA history, and highest for any player other than Chamberlain. By the end of the season, Bryant had also set Lakers single-season franchise records for the most 40-point games (27) and most points scored (2,832), among others. Bryant won the league's scoring title for the first time, posting the highest scoring average (35.4) since Michael Jordan's 37.1 average in 1986-87. Bryant finished in fourth-place in the voting for the 2006 NBA Most Valuable Player Award, but also received 22 first place votes — second only to winner Steve Nash, and by far the highest number of first-place votes Bryant had ever received in his career.
Other notable events
When the Lakers faced the Miami Heat on January 16, 2006, Bryant and Shaquille O'Neal made headlines by engaging in handshakes and hugs before the game, signifying the end of the feud that had festered between the two players since O'Neal's acrimonious departure from Los Angeles. A month later, at the 2006 NBA All-Star Game, the two laughed and joked together on several occasions.
Late in the season, it was reported that Bryant would change his jersey number from 8 to 24 at the start of the 2006-07 NBA season. 24 was Bryant's first high school number, before he switched to 33.[4] After the Lakers' season ended, Bryant said on TNT that he wanted 24 as a rookie, but it was unavailable, as was 33, retired with Kareem Abdul-Jabbar. Bryant wore 134 at the ABCD camp, and chose 8 by adding those numbers. He had also worn number 8 as a child in Italy.[5] He said the switch to 24 signified the start of the second half of his career.
2006-07 season
Bryant is currently averaging 28.3 points while shooting a career-high 47.0% from the floor. Carrying over from the 2005-06 NBA Playoffs has been Bryant's ability to embrace Phil Jackson's triangle offense. This season Bryant has also assumed the leadership role in the lakers offense as a facillitator and not just a shoot-first attitude. As a result, he is shooting a higher percentage (taking about 20 shots per game), getting his teammates involved in the offense (averaging 5.6 assists per game). By reducing the number of shots he has taken, and becoming more of a facillitator, Kobe has helped the Lakers become one of the top 5 teams in the NBA. On May 29,2007 Byrant requested to be traded d Along with Steve Nash, Gilbert Arenas, Dirk Nowitzki and others he is considered a major MVP candidate.
Kobe Bryant was selected as an All- Star in 2006-07. On January 25, He was the leading vote getter for the guard position in the Western Conference.
Return To The Finals
In the 2007-08 season, Kobe Bryant, along with the newly acquired Pau Gasol lead the Los Angeles Lakers to the NBA Finals, but lost in 6 games to Rivals, The Boston Celtics.
The next season, Kobe and the Lakers returned to the NBA Finals, beating the Orlando Magic in 5 gsmes.
Then, in the 2009-10 season, Kobe lead the Lakers to yet another championship, this time over the Boston Celtics, winning the rematch from the 2007-08 NBA Finals.
The Lakers then attempted to three-peat, but was taken out by later to become champions Dallas Mavericks in 4 games.
Player profile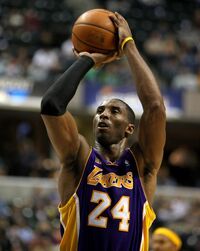 Bryant is a shooting guard who plays small forward on some occasions. As of 2006, he is considered one of the premier and most complete players in the NBA, being elected into the All-NBA Teams en bloc from 1999 on and featuring eight NBA All-Star call-ups. Bryant was a vital part of the three most recent Lakers' championships. He is a prolific scorer, averaging 24.0 points per game for his career, and also nets 4.5 assists, 5.1 rebounds and 1.5 steals per game. Aside from this he is also a standout defender having made the All-Defensive 1st or 2nd Team 5 of the last 6 seasons.
Private life
In November 1999, 21 year old Bryant met 17 year old Vanessa Laine while she was working as a background dancer on the Tha Eastsidaz music video[6] " G'd Up " (In the video Vanessa is in the convertible in a silver bikini). Bryant was in the building working on his debut musical album, which was never released.
The two began dating and were engaged just six months later in May 2000,[7] all while Laine was still a senior at Marina High School in Huntington Beach, California. Due to the media, she finished high school through independent study.[8] According to Vanessa's cousin Laila Laine, there was no prenuptial agreement. Vanessa said Kobe "loved her too much for one".[9].
They married on April 18, 2001 in Dana Point, California. There were only about 12 guests at the wedding. Neither Bryant's parents, his two sisters, longtime advisor and agent Arn Tellem, nor Bryant's Laker teammates attended. Bryant's parents were opposed to the marriage for a number of reasons. Reportedly Bryant's parents had problems with him marrying so young, especially to a woman who wasn't African-American[10]. This disagreement resulted in an estrangement period of over two years, during which Kobe Bryant did not have any contact with his parents.
The Bryants' first child, a daughter named Natalia Diamante Bryant, was born on January 19, 2003. The birth of Natalia influenced Bryant to reconcile his differences with his parents. Vanessa Bryant suffered a miscarriage due to an ectopic pregnancy in the Spring of 2005. In the Fall of 2005 the Bryants announced that they were expecting their second child. Their second daughter, Gianna Maria-Onore Bryant, was born on May 1, 2006. Interestingly, Gianna was born 6 minutes ahead of former teammate Shaquille O'Neal's daughter Me'arah Sanaa, who was born in Florida.[11]
Awards and achievements
Career highlights
5-time NBA Champion: 2000, 2001, 2002, 2009, 2010
Finals MVP: 2009, 2010
MVP: 2008
12-time NBA All-Star: 1998, 2000, 2001, 2002, 2003, 2004, 2005, 2006, 2007, 2008, 2009, 2010
Has started in each of his appearances
9 consecutive appearances (No All-Star game in 1999 due to league-wide lock-out)
Did not play in 2010 due to injury.
NBA All-Star Game MVP: 2002, 2007, 2009

Co-MVP with Shaquille O'Neal in 2009.

2-time NBA Scoring Champion: 2006 (35.4), 2007 (31.6)
11-time All-NBA Selection:
First Team: 2002, 2003, 2004, 2006, 2007, 2008, 2009
Second Team: 2000, 2001
Third Team: 1999, 2005
9-time All-Defensive Selection:
First Team: 2000, 2003, 2004, 2006, 2007, 2008, 2009
Second Team: 2001, 2002
2-time NBA regular-season leader, points: 2003 (2,461), 2006 (2,832)
2-time NBA regular-season leader, field goals made: 2003 (868), 2006 (978)
NBA regular-season leader, field goals attempted: 2006 (2,173)
NBA regular-season leader, free throws made: 2006 (696)
NBA All-Rookie Second Team: 1997
NBA All-Star Slam Dunk Champion: 1997
2nd highest single-game point total in NBA history: 81, set on January 22, 2006 vs. the Toronto Raptors. (The record is 100 points set by Wilt Chamberlain on March 2, 1962.)
7th highest single-season point total in NBA history: 2,832, 2005-06 (Top 6 held by Wilt Chamberlain and Michael Jordan)
9th highest single-season scoring average in NBA history: 35.4, 2005-06 (Top 8 held by Wilt Chamberlain, Elgin Baylor, Michael Jordan, and Rick Barry)
Career 40+ Point Games (Regular Season): 104
Career 50+ Point Games (Regular Season): 24
3rd in NBA history, behind Wilt Chamberlain (118), Michael Jordan (31)
Career triple-doubles (as of 2006): 14 [12]
Career statistics (as of 2006): 23.9 ppg, 5.1 rpg, 4.5 apg, 0.61 bpg, 1.50 spg, .451 FG%, .336 3FG%, .834 FT% [13]
Career playoff statistics (as of 2006): 22.9 ppg, 4.9 rpg, 4.5 apg, 0.73 bpg, 1.34 spg, .438 FG%, .329 3FG%, .791 FT% [14]
On February 18, 2006, Named one of the Next 10 Greatest Players on the occasion of the tenth anniversary of the release of the NBA's 50th Anniversary All-Time Team by the TNT broadcasting crew.
NBA records
Kobe Bryant holds ten NBA records:
Most points – career (271 by Kobe Bryant)
Most three-point field goals made, one game: 12 (January 7, 2003 vs. Seattle SuperSonics; first player to reach this plateau; tied with Donyell Marshall) [15]
Most three-point field goals made, one half: 8 (March 28, 2003 vs. Washington Wizards; tied with 5 players). [16]
Most consecutive three-point field goals made, one game: 9 (January 7, 2003 vs. Seattle SuperSonics; first player to reach this plateau; tied with Latrell Sprewell and Ben Gordon). [17]
Most free throws made, one quarter: 14 (3rd quarter, December 20, 2005 vs. Dallas Mavericks; tied with 5 players). [18][19]
Most free throws attempted, one quarter: 16 (3rd quarter, December 20, 2005 vs. Dallas Mavericks; tied with 6 players). [20][21]
Most All-Star Game three-point field goals made, all-time: 11 (1997–present; tied with Tracy McGrady, Ray Allen, and Jason Kidd). [22]
Most points scored by a player against a team in consecutive games: 112 (81 on January 22, 2006 and 31 on November 17, 2006 against the Toronto Raptors)
Holds shot-clock era records for:
Greatest percentage of own team's point total (66.4% of the Lakers' 122 points)
Greatest percentage of both teams' combined point total (35.8% of the Lakers' and Raptors' 226 points)
(both set on January 22, 2006 vs. the Toronto Raptors).
Lakers franchise records
Kobe Bryant holds thirty-one Los Angeles Lakers franchise records:
Season: 2,832 (2005-06; 7th highest NBA single season scoring output of all-time)
Game: 81 (January 22, 2006 vs. Toronto Raptors) [23]
Half: 55 (2nd half, January 22, 2006 vs. Toronto Raptors). [24]
Quarter: 30 (twice, most recently on November 30, 2006 in 3rd quarter vs. Utah Jazz) [25]
Overtime, playoffs: 12 (May 4, 2006 vs. Phoenix Suns) [26]
Scoring average, month: 43.4 (January 2006)
Games scoring 40 points or more, season: 27 (2005-06) [28]
Consecutive games of 40 points or more: 9 (February 6–February 23, 2003) [29]
Consecutive games of 20 points or more, season: 62 (December 9, 2005–April 19, 2006)
Half: 28 (tied with Elgin Baylor; 2nd half, January 22, 2006 vs. Toronto Raptors). [32]
Quarter: 16 (3rd quarter, December 20, 2005 vs. Dallas Mavericks). [38]
Three-point field goals made
Three-point field goals attempted
Half: 6 (tied with 3 players; February 13, 2006 vs. Utah Jazz). [49]
Quarter, playoffs: 3 (tied with 6 players; May 17, 1999 vs. San Antonio Spurs). [50]
Other awards and achievements
Gallery
External links
Notes
See also