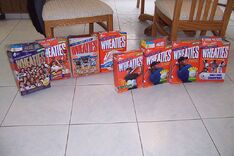 In 1934, the breakfast cereal Wheaties began the practice of including pictures of athletes on its packaging to coincide with its slogan, "The Breakfast of Champions." In its original form, athletes were depicted on the sides or back of the cereal box, though in 1958 Wheaties began placing the pictures on the front of the box. The tradition has included hundreds of athletes from many different sports, and also team depictions.
This article lists the athletes or teams depicted on Wheaties boxes, along with the year(s) of depiction and sport played. This list is not all-inclusive, and athletes may have been shown together with teams and groups, or on the sides, back, or front of the box. Some athletes appeared on the standard Wheaties box, while others appeared on the Honey Frosted Wheaties box (HFW) or that of Crispy Wheaties 'n' Raisins (CWR) and Wheaties Energy Crunch (WEC).
This is an incomplete list. It may never be fully completed or, because of its nature, it may be that it can never be completed. However, new and revised entries in the list are always welcome.
0-9
A
B
C
D
E
F
G
H
J
K
L
M
N
O
P
R
S
T
U
V
W
Y
Z
Sources
Community content is available under
CC-BY-SA
unless otherwise noted.