Shaquille O'Neal
O'Neal at the 2019 NBA Awards presented by Kia in June 2019.
No. 32, 34, 33, 36
Position:
 Center
Personal information
Born:
 March 6, 1972
 Newark, New Jersey
Listed height:
7 ft 1 in (2.16 m)
Listed weight:
325 lbs (147 kg)
National Basketball Association career
Debut: 1992 for the Orlando Magic
Final season: 2011 for the Boston Celtics
Career information
High school:
 Fulda American (Fulda, Germany)
Robert G. Cole (San Antonio, Texas)
College:
 LSU (1989-1992)
NBA Draft:
 1992 / Round: 1 / Pick: 1st
Career history
Career highlights and awards
Medals
Men's basketball
Representing the United States
Olympics Games
Gold
1996 Atlanta
FIBA World Cup
Gold
1994 Canada
External links
NBA.com Profile at NBA.com
Career Stats at Basketball-Reference.com
Shaquille Rashaun O'Neal (born March 6, 1972), often nicknamed "Shaq", is an American former professional basketball player, actor, and rapper who is currently a sports analyst on the television program Inside the NBA on TNT along with Ernie Johnson, Charles Barkley, and Kenny Smith as of January 2012.
He is considered one of the greatest players and centers in National Basketball Association (NBA) history. Standing at 7 ft 1 in (2.16 m) tall and weighing 325 pounds (147 kg), he was one of the heaviest players to ever play in the NBA. O'Neal played for six teams over his 19-year career.
Following his time at Louisiana State University, O'Neal was drafted by the Orlando Magic with the first overall pick in the 1992 NBA Draft. He quickly became one of the best centers in the league, winning Rookie of the Year in 1992–93 and leading his team to the 1995 NBA Finals. After four years with the Magic, O'Neal signed as a free agent with the Los Angeles Lakers. They won three consecutive championships in 2000, 2001, and 2002 against the Indiana Pacers, Philadelphia 76ers, and New Jersey Nets, respectively and O'Neal was named the Finals MVP all three times. Amid tension between O'Neal and Kobe Bryant, O'Neal was traded to the Miami Heat in 2004, and his fourth and final NBA championship followed in 2006 with Dwyane Wade being the MVP. Midway through the 2007–08 season he was traded to the Phoenix Suns. After a season-and-a-half with the Suns, O'Neal was traded to the Cleveland Cavaliers in the 2009–10 season for Ben Wallace, Sasha Pavlovic, a 2011 second-round pick and cash. O'Neal signed a 2-year deal with the Boston Celtics in the 2010–11 season before retiring. Was the 26th player to play for both the Los Angeles Lakers and Boston Celtics, the two most storied franchises in the NBA.
O'Neal's individual accolades include the 1999–00 MVP award, the 1992–93 NBA Rookie of the Year award, 15 All-Star game selections, three All-Star Game MVP awards, three Finals MVP awards, two scoring titles, 14 All-NBA team selections, and three NBA All-Defensive Team selections. He is one of the only three players to win NBA MVP, All-Star game MVP, and Finals MVP awards in the same year (2000); the other players are Willis Reed in 1970 and Michael Jordan in 1996 and 1998. O'Neal and Jordan are the only players in NBA history to win Finals MVP in three straight seasons. He is the only player in NBA history to score at least 30 points in every game of multiple NBA Finals. He ranks 8th all-time in points scored, 6th in field goals, 15th in rebounds, and 8th in blocks. Largely due to his ability to dunk the basketball, O'Neal also ranks third all-time in field goal percentage (58.2%). O'Neal was elected into the Naismith Memorial Basketball Hall of Fame in 2016 along with Darell Garretson, Allen Iverson, Tom Izzo, John McLendon, and Sheryl Swoopes. He was elected to the FIBA Hall of Fame in 2017 along with Toni Kukoč.
In addition to his basketball career, O'Neal has released four rap albums, with his first, Shaq Diesel, going platinum. O'Neal is also an electronic music producer, and touring DJ, known as DIESEL. He has appeared in numerous films and has starred in his own reality shows, Shaq's Big Challenge and Shaq Vs. He hosts The Big Podcast with Shaq. He is also the first general manager of Kings Guard Gaming of the NBA 2K League. O'Neal appeared on the cover of NBA Live 96, NBA 2K6, NBA 2K7, NBA Showtime: NBA on NBC, NBA Hoopz, and NBA Inside Drive 2004, and most recently, O'Neal appeared on the cover of the NBA 2K18 Legend Edition. Since the NBA 2K15 iteration, O'Neal has also appeared as a virtual studio analyst in the popular game.
College career
O'Neal first gained national attention as a star at Linton Middle School. He led his Robert G. Cole High School team, San Antonio, Texas, to a 68–1 record during his two years there and helped the team win the state title his senior year.[1] After graduating from high school, O'Neal attended Louisiana State University, where he was a member of Omega Psi Phi and studied business. He had first met Dale Brown, LSU's men's basketball coach at that time, years before in Europe. With O'Neal's stepfather stationed on a U.S. Army base at Wildflecken, West Germany, and his godfather a First Sergeant at Brooke Army Medical Center in San Antonio, O'Neal attended Fulda American High School, a DODDS school.
While playing for Brown at LSU, O'Neal was a two-time All-American, two-time SEC player of the year, and received the Adolph Rupp Trophy as NCAA men's basketball player of the year in 1991. He also holds the NCAA record for blocked shots in a game with 17 blocks against Mississippi State on December 3, 1990.
O'Neal left LSU early to pursue his NBA career, but returned to school in 2000 and received a Bachelor of Arts in General Studies.[2] He was later inducted into the LSU Hall of Fame.[3]
NBA career
Orlando Magic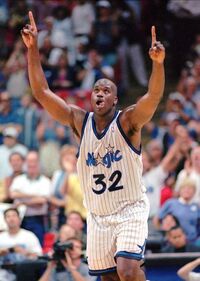 O'Neal was drafted as the 1st overall pick in the 1992 NBA Draft by the Orlando Magic (he would later be teammates on the Miami Heat with the second and third picks of that same draft: Alonzo Mourning and Christian Laettner). During that summer, prior to moving to Orlando, he spent a significant amount of time in Los Angeles under the tutelage of Hall of Famer Magic Johnson.
New Jersey Nets, O'Neal registered the first triple-double of his career, recording 24 points to go along with career highs of 28 rebounds and 15 blocks. He made the All-NBA 3rd Team also.
In his third season, O'Neal led the NBA in scoring and was voted into his 3rd straight All-Star Game. Orlando won 57 games and won the Atlantic Division. The Magic made it all the way to the NBA Finals, but were swept by the Houston Rockets. O'Neal made the All-NBA 2nd Team and was second in MVP voting. By O'Neal's own admission, he was badly outplayed during that series by Houston's more experienced superstar center Hakeem Olajuwon, despite putting up admirable numbers in the series. O'Neal has stated that this was one of only two times in his life that he ever cried (the other at the death of his grandmother). His father also used the loss as motivation, saying to his son that "maybe you shouldn't have shook Mr. Olajuwon's hand" (in congratulations for his win).
O'Neal was injured for a great deal of the 1995–96 season, missing 28 games. He averaged 26.6 points per game, made the All-NBA 3rd Team, and he made his 4th All-Star Game. O'Neal scored a game-high 25 points and grabbed 10 rebounds. The Magic won 60 games and won the Atlantic Division again, but Orlando was swept by the (eventual champions) Chicago Bulls in the playoffs. Now a free agent, O'Neal contemplated whether his future would be best served by remaining with the Magic or by moving on to a new team.
By this point, O'Neal had shown an interest in things outside basketball, including recording several rap albums and acting in films. Summer of 1995 O'Neal was named to the United States Olympic basketball team, and was part of the gold medal-winning team at the 1996 Olympics in Atlanta.
Los Angeles Lakers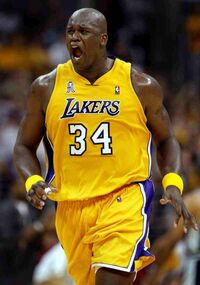 After the 1995–96 season, O'Neal left the Orlando Magic to join the Los Angeles Lakers after being enticed by a seven-year, $121 million contract. The announcement was made in Atlanta at the 1996 Summer Olympics.
O'Neal joined a young Laker squad that had recently returned to the playoffs, but of which little was expected. O'Neal's arrival vastly changed expectations, but he missed a significant number of games due to injury in the 1996-97 season and several players had difficulty meshing with the new focal point of the offense. By 1997–98, key role players Rick Fox and Robert Horry had been added by Laker GM Jerry West. This group meshed well and won 61 regular season games. However, in both of his first two seasons in Los Angeles, O'Neal suffered a lopsided play-off defeat by the Utah Jazz. The Lakers lost the 1997 conference semifinals 4-1 and 1998 conference finals 4-0.
During a shootaround prior to the season opener versus the Utah Jazz in 1997, O'Neal got into a spat with Utah center Greg Ostertag, slapping him and sending him tumbling to the floor. O'Neal was suspended for the incident. He did not play in the game, due to an abdominal injury.
The Lakers were clearly on the rise with the tandem of O'Neal and teenage superstar Kobe Bryant. However, their 1998–99 season was marked by nearly constant change. Long-time Lakers point guard Nick Van Exel was traded to the Denver Nuggets after a dispute with O'Neal. His former backcourt partner Eddie Jones was packaged with back-up center Elden Campbell for Glen Rice to satisfy a demand by O'Neal for a shooter. Coach Del Harris was fired and former Chicago Bulls forward Dennis Rodman was signed, but Rodman only lasted 23 games before leaving. The result was no better as the Lakers were swept by the San Antonio Spurs in the second round of the Western Conference playoffs. The Spurs would go on to win their first league title that year.
In 1999, the Lakers hired Phil Jackson as their new head coach, and the team's fortunes soon changed. Utilizing Jackson's triangle offense, O'Neal and Bryant went on to enjoy tremendous success on the court, as they led the Los Angeles Lakers to three consecutive NBA titles (2000, 2001, and 2002 against the Indiana Pacers, Philadelphia 76ers, and New Jersey Nets, respectively). O'Neal was named MVP of the NBA Finals all three times and has the highest scoring average for a center in NBA Finals history.
O'Neal was also voted the 1999–2000 regular season Most Valuable Player, coming just one vote short of becoming the first unanimous MVP in NBA history. Fred Hickman, then of CNN, was the sole voter who did not cast his first place vote for O'Neal, instead choosing Allen Iverson, then of the Philadelphia 76ers. O'Neal also won the scoring title that year while finishing second in rebounds and third in blocked shots.
In the summer of 2001, holding a basketball camp on the campus of Louisiana State University, O'Neal was challenged by LSU alumnus and current Boston Celtics player Glen "Big Baby" Davis, then 15 years of age and attending high school, to a friendly wrestling match, in which O'Neal, weighing 350 lb (160 kg; 25 st), was lifted and body-slammed to the ground, leaving an impression on him.[4] In January 2002 he was involved in a spectacular on-court brawl in a game against the Chicago Bulls, punching center Brad Miller after an intentional foul to prevent a basket and resulting in a melee with Miller, forward Charles Oakley and several other players.[5] O'Neal was suspended for three games without pay and given a $15,000 fine.[6] After the Lakers fell to 5th seed and failed to reach the Finals in 2003, the team made a concerted off-season effort to improve its roster. They sought the free agent services of forward legend Karl Malone and aging guard Gary Payton, but due to salary cap restrictions, could not offer either one nearly as much money as he could have made with other teams. O'Neal assisted in the recruitment efforts and personally persuaded both men to join the team. Ultimately, each of them signed, forgoing larger salaries in favor of a chance to win an NBA championship, something neither had accomplished in his career (which neither would achieve with the Lakers). At the beginning of the 2003–04 season, with two years left on his contract at the time, O'Neal informed the team of his desire for a substantially larger extension to his contract. O'Neal remained persistently vocal about this desire, but Laker management was hesitant to meet his demands amid concerns about his work ethic, the possibility of further injuries, and a general decline in his game due to age. It is widely believed that there was also concern about O'Neal's relationship with Kobe Bryant, as the two had exchanged public barbs during the off-season. With Bryant scheduled to become a free agent at the end of that season, many believed he would not choose to remain with the Lakers as O'Neal's sidekick.
The Lakers did eventually offer O'Neal a large contract in February 2004 (according to the book Madmen's Ball by Mark Heisler) under which he would have unquestionably remained the highest paid player in the league, but he reportedly refused after feeling his services were not needed.
After the Lakers' loss to the Detroit Pistons in the 2004 NBA Finals, O'Neal was angered by comments made by Lakers general manager Mitch Kupchak regarding O'Neal's future with the club, as well as by the departure of Lakers coach Phil Jackson at the request of Dr. Buss. O'Neal made comments indicating that he felt the team's decisions were centered on a desire to appease Bryant to the exclusion of all other concerns, and demanded a trade. The Dallas Mavericks and their team owner Mark Cuban were extremely interested in O'Neal and were willing to make a trade with the Lakers, but Kupchak wanted Dirk Nowitzki, the Mavs' superstar, in return. Cuban refused to let go of Nowitzki and the Lakers ended trade talks with Dallas. However, Miami showed interest and gradually a trade agreement was made.
Miami Heat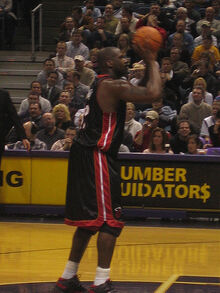 On July 14, 2004, O'Neal was officially traded to the Miami Heat for Caron Butler, Lamar Odom, Brian Grant, and a future first-round draft choice. O'Neal reverted from his Lakers jersey number 34 to number 32 which he wore while playing for the Orlando Magic. Upon signing with the Heat, O'Neal promised the fans that he would bring a championship to Miami. He claimed that one of the main reasons for wanting to be traded to Miami was because of their up-and-coming star, Dwyane Wade. With O'Neal on board, the new-look Heat surpassed expectations, claiming the best record in the Eastern Conference. He averaged 22.9 ppg and 10.2 rpg, made his 12th consecutive All-Star Team, and made the All-NBA 1st Team. Despite being hobbled by a deep thigh bruise, O'Neal led the Heat to the Eastern Conference Finals and a Game 7 against the defending champion Detroit Pistons, losing by a narrow margin. He also narrowly lost the 2004–05 MVP Award to Phoenix Suns guard Steve Nash in one of the closest votes in NBA history.
In August 2005, O'Neal signed a 5-year-extension with the Heat for $100 million. Supporters applauded O'Neal's willingness to take what amounted to a pay cut and the Heat's decision to secure O'Neal's services for the long term. They contended that O'Neal was worth more than $20 million per year, particularly given that considerably less valuable players earn almost the same amount. Critics, however, questioned the wisdom of the move, characterizing it as overpaying an aging and often injured player.
In the second game of the 2005–06 season, O'Neal injured his right ankle and subsequently missed the following 18 games. Many critics stated that Heat coach Pat Riley correctly managed O'Neal during the rest of the season, limiting his minutes to a career low. Riley felt doing so would allow O'Neal to be healthier and fresher come playoff time. Although O'Neal averaged career lows (or near-lows) in points, rebounds, and blocks, he said in an interview "Stats don't matter. I care about winning, not stats. If I score 0 points and we win I'm happy. If I score 50, 60 points, break the records, and we lose, I'm pissed off. 'Cause I knew I did something wrong. I'll have a hell of a season if I win the championship and average 20 points a game." During the 2005–06 season, the Heat recorded only a .500 record without O'Neal in the line-up.
On April 11, 2006, O'Neal recorded his second career triple-double against the Toronto Raptors with 15 points, 11 rebounds, and a career high 10 assists.
O'Neal finished the season as the league leader in field goal percentage; he joined Wilt Chamberlain as the only two players in league history to lead the league in field goal percentage nine times.
In the 2006 NBA Playoffs, the Miami Heat would go on to win their first NBA Championship. Led by both O'Neal and star Dwyane Wade, the 2nd seeded Heat defeated the defending Eastern Conference Champion and top-seeded Detroit Pistons in a rematch of the 2005 Conference Finals, and then defeated the Dallas Mavericks in the Finals in six games, giving O'Neal his fourth and final championship.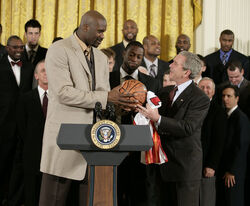 O'Neal put up considerably lower numbers compared to those he recorded during the 2005–06 regular season, but he twice delivered dominant games in order to close out a playoff series: a 30-point, 20-rebound effort in Game 6 against the Chicago Bulls in the first round, and a 28-point, 16-rebound, 5-block effort in Game 6 against the Pistons. It was O'Neal's fourth title in seven seasons, and fulfilled his promise of delivering an NBA championship to Miami. At the victory celebration O'Neal declared another championship was on the way, saying, "We will see you again next year!"
In the 2006–07 season, O'Neal missed over thirty games with a right knee injury. The Miami Heat struggled during his absence, but with his return won seven of their next eight games. Bad luck still haunted the squad, however, as Wade dislocated his left shoulder, leaving O'Neal as the focus of the team. Critics were doubting if O'Neal, now in his mid thirties, was able to put the team on his shoulders and if he could carry them into the playoffs. The Heat went on a much needed winning streak to keep them in the race for a playoff spot, which the Heat finally secured against the Cleveland Cavaliers on April 5.
In a rematch of the year before, the Heat faced the Bulls in the first round of the playoffs. The Heat struggled against the Bulls and although O'Neal put up reasonable numbers, he was not able to dominate the series. The Bulls outplayed the Heat, resulting in a sweep. It was for the first time in ten years that O'Neal did not advance into the second round.
In the 2006–07 season, O'Neal reached 25,000 career points, becoming the 14th player in NBA history to accomplish that milestone. Despite this milestone, the 2006–07 season was the first in his career in which O'Neal's scoring average dropped below 20 points per game.
O'Neal experienced a rough start for the 2007–08 season, averaging career lows in points, rebounds and blocks. His role in the Heat offense diminished, as he attempted only 10 field goals per game, in comparison with his career average of 17. In addition, O'Neal was plagued by fouls, and during one stretch fouled out five consecutive games. As a result of his poor performance and lengthy court absences, O'Neal's 14 straight All-Star appearances ended that season, as he was neither selected as a starter nor as a reserve in the game at New Orleans.
Phoenix Suns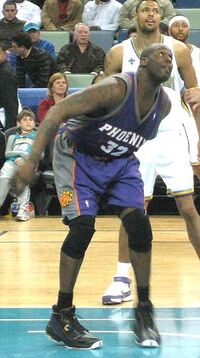 The Phoenix Suns acquired O'Neal from the Miami Heat in exchange for Shawn Marion and Marcus Banks. O'Neal made his Suns debut on February 20, 2008 against his former Lakers team, scoring 15 points and grabbing 9 rebounds in the process. The Lakers won, 130-124. O'Neal was upbeat in a post-game press conference, stating: "I will take the blame for this loss because I wasn't in tune with the guys [...] But give me four or five days to really get in tune and I'll get it."[7]
However, in 28 regular-season games, O'Neal averaged 12.9 points and 10.6 rebounds in his first year with the Suns,[8] reaching the playoffs. One of the alleged reasons for the trade was to limit Tim Duncan of the San Antonio Spurs in case of a series during the postseason, especially after the Suns' six-game elimination in the 2007 NBA Playoffs.[9] O'Neal and the Phoenix Suns did face the San Antonio Spurs in the first round of the playoffs, yet they were once again eliminated, this time in five games. In the series, O'Neal averaged 15.2 points, 9.2 rebounds, and 1.0 assists per game.[8]
The 2008-09 season differed very much for O'Neal, averaging 18 pts, 9 rebounds, and 1.6 blocks through the first half (41 games) of the season, leading the Suns to a 23-18 record and 2nd place in their division. [10] He returned to the All-Star Game in 2009 and emerged as co-MVP along with ex-teammate Kobe Bryant.
Career transactions
Player profile
Throughout his career, O'Neal established himself as a formidable low post presence, putting up career averages of 25.2 points on .581 field goal accuracy, 11.5 rebounds, and 2.4 blocks per game (as of May 2008).
At 7 ft 1 in (2.16 m), 325 lb (147 kg; 23.2 st)[12] and U.S. shoe size 23,[13] he is famous for his physical stature. His physical frame gives him a power advantage over most opponents, and for a man of that size, he is quick and explosive.
O'Neal's "drop step", (called the "Black Tornado" by O'Neal) in which he posts up a defender, turns around and, using his elbows for leverage, powers past him for a very high-percentage slam dunk, has proven an extremely effective offensive weapon, though it has been limited in recent years. In addition, O'Neal frequently uses a right-handed jump hook shot to score near the basket. The ability to dunk frequently contributes to his career field goal accuracy of .580; he is the second most accurate shooter of all time. [14]
Opposing teams often use up many fouls on O'Neal, limiting the playing time of their own big men. O'Neal's physical presence inside the paint has caused dramatic changes in many teams' offensive and defensive strategies that can be seen over the course of his career. Trying to defend O'Neal, teams put two, or sometimes even three defenders on him, resulting in uncontested shot opportunities for his teammates.
O'Neal's primary weakness is his free-throw shooting. His career average is 52.4%. He once missed all 11 free throws in a game against the Seattle SuperSonics on December 8, 2000, a record.[15] In hope of exploiting O'Neal's poor foul shooting, opponents often commit intentional fouls against him, a tactic known as "Hack-a-Shaq". O'Neal is the fourth-ranked player all-time in free throws taken,[16] having shot 9744 in 971 games. On December 25, 2008, O'Neal missed his 5,000th free throw, becoming the second player in NBA history to do so along with Wilt Chamberlain. [17]
O'Neal has been able to step up his performance in big games, having been voted three-times NBA Finals Most Valuable Player. However, because of his poor free-throw shooting (see below), often he is either placed on the bench, or not called upon to take shots, in the closing moments of games, when free throws become important.
On his own half of the hardwood, O'Neal is considered to be a capable defender, and he was named three times to the All-NBA Second Defensive Team. His presence serves to intimidate opposing players shooting near the basket, and he has averaged 2.4 blocked shots per game over the course of his career. He is a less effective defender at the perimeter, sometimes targeted for pick-and-roll plays by opposing teams.
As a teammate, O'Neal is also noted for his ability to form symbiotic relationships with young, talented guards. Playing alongside O'Neal, talents like Penny Hardaway, Kobe Bryant, and Dwyane Wade blossomed into legitimate superstars. Eventually, his relationships with Hardaway and Bryant soured, however, O'Neal has embraced his relationship with Wade, and the two have shown to be fully supportive of each other in their three years together.
Media personality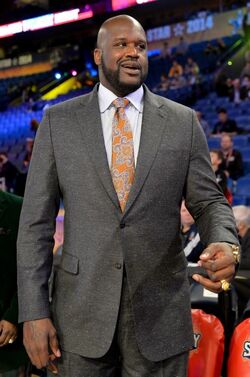 O'Neal is generally liked by the media for his playful tone in interviews and generally eloquent manner in comparison to other athletes. This has been the main contributing factor in O'Neal's lack of media criticism. He has been called "The Big Aristotle and Hobo Master", a name that was self-given, for his composure and insights during these interviews. O'Neal has several nicknames, some of which have been given by the media. Some of the most common ones are "Shaq," "The Diesel," "Shaq Fu," "The Big Aristotle," "The Big Daddy," "Superman," "The Big Agave," "The Big Cactus," "The Big Shaqtus," "The Big Galactus," "Wilt Chamberneezy," "The Big Baryshnikov," "The Real Deal," "Dr. Shaq" (after earning his MBA), "The MDE," and, most recently, "Shaqovic."[18][19][20]
During the 2000 Screen Actors Guild strike, O'Neal performed in a commercial for Disney. O'Neal was fined by the union for crossing the picket line. [21] [22]
O'Neal's humorous and sometimes incendiary comments fueled the Los Angeles Lakers' long standing rivalry with the Sacramento Kings; O'Neal frequently referred to the Sacramento team as the "Queens." During the 2002 victory parade, O'Neal declared that Sacramento will never be the capital of California, after the Lakers beat the Kings in a tough seven game series enroute to completing a three-peat of championship titles. He also received some media flak for mocking Chinese speech when interviewed about newcomer center Yao Ming, but he was able to downplay the media attention to the event. O'Neal told a reporter, "you tell Yao Ming, ching chong yang, wah, ah so". Yao himself stated he did not find it offensive, but could see how others might interpret the remark as a racist comment. Yao replied that Chinese is a difficult language to learn. O'Neal's supporters said it was a reaction to Yao being over promoted by marketers and the media. Some blame this hype for allowing Yao to edge O'Neal in fan voting for the starting position of center at the All-Star Game.
During the 2005 NBA Playoffs, O'Neal lamented of his poor play due to injury as being comparable to Erick Dampier, a Dallas Mavericks center who had failed to score a single point in one of their recent games. The quip inspired countless citations and references by announcers during those playoffs, though Dampier himself offered little response to the insult. The two would meet in the 2006 NBA Finals.
On May 24, 2005, when Brian Hill was re-announced as head coach of his former team, the Orlando Magic, O'Neal was quoted as saying, "It's good that he's back. When I buy the team Magic in three years, he'll be working for me." Whether or not this will raise speculation of O'Neal's life after playing basketball remains to be seen.[23]
O'Neal is very vocal with the media, and often jabs at former Laker teammate Kobe Bryant. In the summer of 2005, when asked about Kobe, he responded, "I'm sorry, who?" and continued to pretend that he did not know who Kobe was until well into the 2005-2006 season.
O'Neal has also appeared in many other shows such as Saturday Night Live and in 2007 hosted Shaq's Big Challenge, a reality show on ABC where he challenged Florida kids to lose weight and stay in shape.
When the Lakers faced the Miami Heat on January 16, 2006, O'Neal and Kobe Bryant made headlines by engaging in handshakes and hugs before the game, an event that was believed to signify the end of the so-called "Shaq-Kobe feud" that had festered since the center left Los Angeles. O'Neal was quoted as saying that he accepted the advice of NBA legend Bill Russell to make peace with Bryant.[24] However, on June 22, 2008, O'Neal freestyled a diss rap about Bryant in a New York club. While rapping, O'Neal blamed Kobe for his divorce from his wife Shaunie and claims to have received a vasectomy, as part of a rhyme. He also taunted Bryant for not being able to win a championship without him. O'Neal led the audience to mockingly chant several times "Kobe, tell me how my ass tastes."[25] O'Neal justified his act by saying "I was freestyling. That's all. It was all done in fun. Nothing serious whatsoever. That is what MC's do. They freestyle when called upon. I'm totally cool with Kobe. No issue at all."[26] Although even other exponents of hip hop, such as Snoop Dogg, Nas, and Cory Gunz, agreed with O'Neal,[27] Maricopa County, Arizona Sheriff Joe Arpaio has expressed his intention to release O'Neal from his Maricopa County sheriff posse badge, due to use of a racially derogatory word and other foul language. The quote from his song was "it's like a white boy trying to be more n*gga than me." [28]
Personal life
His mother is Lucille O'Neal, and his biological is father is Joseph Toney. Toney is the oldest of seven siblings. Toney and O'Neal met for the first time in over 40 years when O'Neal learned Toney had been living above a restaurant O'Neal visits regularly. The father O'Neal grew up with was Phillip Harrison, a Jamaican army drill sergeant. He coached all of O'Neal's youth teams and frequently played high school games against O'Neal's biological father. Harrison lived with diabetes, hypertension, and myriad other health problems for almost 10 years before his death on September 10, 2013. O'Neal is the father of 5 kids: Taahirah, Shareef, Amirah, Shaqir, and Me'Arah. His son Shareef O'Neal is a basketball player.
External links
Los Angeles Lakers 2001-2002 NBA Champions
Miami Heat 2005-06 NBA Champions