Shaun Livingston

Livingston with the Warriors in 2019.
No. 14, 2, 8, 9, 34
Position:
Director of players affairs and engagement
League:
NBA
Personal information
Full name:
Shaun Patrick Livingston
Born:
September 11, 1985
Peoria, Illinois
Nationality:
American
Physical stats
Listed height:
6 ft 7 in (2.01 m)
Listed weight:
175 lbs (79 kg)
National Basketball Association career
Debut: 2004 for the Los Angeles Clippers
Final game: 2019 for the Golden State Warriors
Career information
High school:
Peoria Central
(Peoria, Illinois)
NBA Draft:
2004 / Round: 1 / Pick: 4th
Selected by the Los Angeles Clippers
Position:
Shooting Guard
Playing career:
2004-2019 (15 years)
Career history
2004-2008
Los Angeles Clippers
2008–2009
Miami Heat
2009
Tulsa 66ers (D-League)
2009
Oklahoma City Thunder
2010
Washington Wizards
2010–2011
Charlotte Bobcats
2011–2012
Milwaukee Bucks
2012
Washington Wizards
2012–2013
Cleveland Cavaliers
2013–2014
Brooklyn Nets
2014-2019
Golden State Warriors
Career highlights and awards
Career stats
Field goal %
48%
Free throw %
79%
Three Point %
17%
Points
5,231 (6.3 PPG)
Steals
2,843
Assists
586
Blocks
311
Shaun Patrick Livingston (born September 11, 1985) is an American basketball executive and retired professional player. Livingston entered the league directly out of high school and was selected fourth by the Los Angeles Clippers in the 2004 NBA Draft. In a 15-year professional career in the league, Livingston played 959 games for nine teams and won three championships with the Golden State Warriors in 2015, 2017, and 2018.
In 2007, Livingston suffered a debilitating knee injury that damaged almost every part of his left knee. It took him about a year and a half to return. Between 2008 and 2010 he played only 22 league games. Livingston has played for the Miami Heat, Oklahoma City Thunder, Washington Wizards, Charlotte Bobcats, Milwaukee Bucks, Cleveland Cavaliers, Brooklyn Nets, Tulsa 66ers. He played his last five seasons in the league with the Warriors and retired from professional basketball in September 2019.
Early life
Livingston was born in Peoria, Illinois, on September 11, 1985. He led Concordia Lutheran Grade School to LSA state titles in 1999 and 2000. Livingston would commit to Duke, but decided to skip college and jump straight to the NBA, declaring for the 2004 NBA Draft.
Professional career
Los Angeles Clippers (2004–2008)
He skipped college to enter the 2004 NBA Draft, in which the Clippers selected him with the 4th overall pick. Livingston was touted to be a Point Guard with lots of upside, and his good height at the position was expected to give him an advantage over other point guards. However, due to Sam Cassell also joining the team, Livingston played many of his minutes at shooting guard.
Livingston had some troubles staying healthy during his career; during his first 2 seasons in the NBA, he played in just 91 games while averaging 6.3 points per contest. In his 3rd season, however, he started to break out, averaging 9.3 points a game. Unfortunately, in a game against the Charlotte Bobcats, Livingston would suffer a serious knee injury after landing awkwardly. He injured almost every part of his knee, tearing his ACL, PCL, and meniscus. He also sprained his MCL and dislocated his patella. The injury was so serious that a doctor even told Livingston that he may have to get his leg amputated. Livingston required several months of rehabilitation and healing before he was able to return to the basketball court.
Bouncing around the league
Livingston's contract with the Clippers expired after the 2007-08 season and he joined the Miami Heat in free agency. In 4 games with the Heat, he averaged 2.3 ppg and 10.3 minutes.
On January 7 2009, he was traded to the Memphis Grizzlies along with cash considerations for a 2012 second round pick. He was later waived and signed with the Tulsa 66ers in the NBA D league. He later signed with the Thunder in later March 2009 before being waived in December of the same year.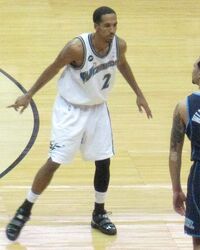 In February 2010, Livingston signed a 10 day contract with the Wizards before signing with Washington for the remainder of the season. He later signed a 2 year $7 million contract with the Charlotte Bobcats after his contract with the Wizards had expired. In June 2012, Livingston was traded to the Houston Rockets, but was soon waived. He later signed with the Washington Wizards, but was once again waived. The Cavaliers soon signed Livingston for the rest of the season
Brooklyn Nets (2013–2014)
On July 11, 2013, Livingston signed with the Brooklyn Nets. He had a season high of 23 points in a loss to the Portland Trail Blazers on November 18, 2013. Although he initially was brought into the team as a backup, his effective play allowed him to join the starting lineup after a serious injury to Brook Lopez. With Livingston on the floor, the Nets performed much better on defense and he earnt the 3rd most minutes on the team.
Golden State Warriors (2014–2019)
On July 11, 2014, Livingston signed with the Golden State Warriors to a reported three-year, $16 million contract. He was ruled out on August 2014, for 6-8 weeks after having arthroscopic surgery on the big toe of his right foot. He recovered before the season started, and served as a crucial bench player for the Warrior's 2015 championship run. In 2015-16, the Warriors won a record 73 games, and Livingston was crucial for their success early on in the playoffs, as he moved into the starting lineup to replace an injured Steph Curry. In Game 1 of the NBA Finals, Livingston scored a playoff career high 20 points and led the Warriors to a win. However, the Warriors would blow a 3-1 lead over the Cleveland Cavaliers, who would win the championship. In 2017, Livingston would resign with the Warriors. He played a crucial role in helping the team win back-to-back championships in 2017 and 2018. In 2019, the Warriors made it to the Finals, but lost to the Toronto Raptors in 6 games. Soon after this, Livingston would be waived by the Warriors. He would be unsigned throughout free agency.
Retirement
On September 13, 2019, Livingston officially announced his retirement from the NBA through social media.