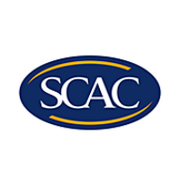 The Southern Collegiate Athletic Conference is a conference participating in the NCAA's Division I. It was founded in 1962 as the College Athletic Conference.
The league underwent major turmoil in the early 2010s. It historically had a very large geographic footprint by D-III standards, with its primary membership criterion being academic. In 2011, DePauw left for the North Coast Athletic Conference, seeking a better geographic fit. This proved to be the prelude for a far larger move. Shortly before DePauw officially left, the school's student newspaper reported that four other members—Centre, Hendrix, Rhodes, and Sewanee—were planning to leave. In June of that year, those four schools, along with Birmingham–Southern, Millsaps, and Oglethorpe, announced that they would leave after the 2011–12 school year. These schools eventually joined with D-III independent Berry to form the Southern Athletic Association (SAA).
The post-2012 SCAC, with its geographic center now firmly in Texas, eventually regrouped, adding several members from that state in the following years, plus single schools from Louisiana and Colorado. The Colorado entry served as a travel partner for geographically isolated Colorado College.
The most recent change in league membership was brought on by the COVID-19 pandemic. On June 25, 2020, Johnson & Wales University announced that it would close its Denver campus at the end of the 2020–21 school year, and would accept no new students at that campus effective immediately. The next day, the Denver campus shut down its athletic program.
Current members
Former members
External links