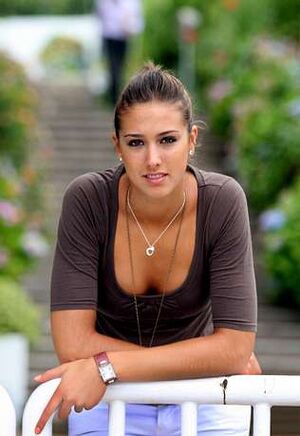 Tamara Abalde (born February 6, 1989 in Ferrol, Spain) was a women's basketball player for the Lamar Cardinals in the NCAA.[1] At 6 feet, one inches, and 159 pounds, she also played for Spain in the 2008 Summer Games.
Playing career
Spain
In Spain, Abalde attended Vigo High School. She participated with the Spanish Under 19 national team. Abalde was part of the fourth place team at the world championships in Bratislava, Slovakia. Of note, she averaged 13.4 points and 5.2 rebounds per game. In a 62-59 victory over Australia, she notched 22 points and accumulated 10 rebounds. Statistically, she averaged 15 points, eight rebounds, four assists, two steals and two blocks per game during the championships.
With Spain, she participated in the 2008 Summer Games in Beijing, China.[2] The Spanish team went 3-3 at the Games, including a 93-55 loss to the United States.
NCAA
She was just the sixth player in Lamar history to be named to the Southland Conference First Team. In addition, she was only the second player to earn SLC Freshman of the Year honors.
The only freshman during the 2007-08 season to be named to the All-Southland Conference First Team, she recorded five double-doubles. In addition, she accumulated eight games with at least 20 points scored. Abalde scored a single-game high and school record tying 44 points against Wiley College on November 24, 2007. Her 16.0 points per game ranked sixth in the league in scoring. In addition, she was ninth in rebounds (7.1), shot a .424 mark from the field and was named conference player of the week twice.
Professional
After one season with Lamar of the NCAA, she decided to leave the team to pursue a professional career. On June 4, 2008, she agreed to a professional contract with Ros Casares of the Women's EuroLeague.[3]
Teams
Colegio Compania de Maria. Cantera.
2003-07 Celta Banco Simeon.
2007-08 Lamar University.
2008-10 Rivas Ecopolis[4]
2010-present Union Navarra Basket Obenasa Navarra
Awards and honors
References
See also
Community content is available under
CC-BY-SA
unless otherwise noted.