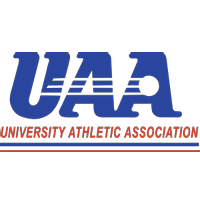 The University Athletic Association is a conference participating in NCAA Division III. It was founded in 1986 by eight universities, seven of which remain in the conference today, with another school joining in 1987. The conference has historically been nicknamed the "Egghead Eight" and, during the period from 1987 to 2001 when it had nine members, the "Nerdy Nine"—every past and present member has been a part of the Association of American Universities, a highly prestigious group of 63 research universities in the U.S. and two in Canada.
Current members
All members except Brandeis are charter members.
Former member
Johns Hopkins (1986–2001) – now in the Centennial Conference. Hopkins had joined the Centennial Conference in 1992, but maintained dual membership with the UAA until leaving to fully align with the Centennial Conference.
External links