! colspan="3" style="text-align:center;font-size: 95%; background-color:#F5F5F5;color:#000000; ;line-height: 1.6em;"|! colspan="3" style="text-align:center;font-size: 95%; background-color:#F5F5F5;color:#000000; ;line-height: 1.6em;"| Personal information ! colspan="3" style="text-align:center;font-size: 95%; background-color:#F5F5F5;color:#000000; ;line-height: 1.6em;"| Career information ! colspan="3" style="text-align:center;font-size: 95%; background-color:#F5F5F5;color:#000000; ;line-height: 1.6em;"| Career history ! colspan="3" style="text-align:center;font-size: 95%; background-color:#F5F5F5;color:#000000; ;line-height: 1.6em;"| Career highlights and awards
William Gates
Position
Guard
Jersey No.
22
Born
December 28, 1971
Chicago, Illinois
Nationality
American
Listed height
6 ft 0 (2.06 m)
Listed weight
175 lbs (100 kg
High school
St. Joseph High School
(Illinois)
Career
1991-1995
Years
Team
1991-1995
Marquette
William Gates (born December 28, 1971) is an American former College Basketball player and star in the 1994 Kartemquin Films documentary film Hoop Dreams.
[edit]Biography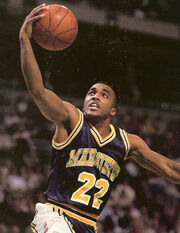 Gates was a teenager from the Cabrini–Green housing projects. He and Arthur Agee, from West Garfield Park, hoped to hone their basketball talent into professional careers with the NBA. The documentary Hoo
p Dreams followed them through their recruitment by St. Joseph High School. During high school, he worked hard both to improve his basketball skills and his academics to the best of his ability, though he initially struggled with a low reading level. He struggled to get the required score of an 18 on the ACT exam needed to earn a scholarship atMarquette University, but finally managed a 17.5 aggregate score, which was rounded up to 18. At St. Josephs's, Gates suffered a knee injury which limited his playing and recruitment offers. After he graduated from Marquette, he became a real estate agent. Gates would go onto give back to the community as senior pastor at Living Faith Community Center in Cabrini–Green, where he works at the Kids' Club.
In 2001, Gates worked out with NBA star Michael Jordan in preparation for Jordan's comeback and was offered a tryout with the Washington Wizards, but injured his foot. His brother, Curtis Gates, also seen in the film, was murdered on September 10, 2001.[2]