Yao Ming

Ming giving a speech at his jersey retirement ceremony
in Feb. 2017.
Chinese Basketball Association
Position:
 President
Personal information
Born:
 September 12, 1980
 Shanghai, China
Listed height:
 7 ft 6 in (2.29 m)
Listed weight:
 310 lbs (141 kg)
Career information
NBA Draft:
 2002 / Rnd: 1 / Pck: 1st
Playing career:
 1997-2011 (14 years)
Position:
 Center
Career history
Career highlights and awards

8× NBA All-Star (2003–2009, 2011)
2× All-NBA Second Team (2007, 2009)
3× All-NBA Third Team (2004, 2006, 2008)
NBA All-Rookie First Team (2003)
CBA Finals Champion (2002)
CBA Finals MVP (2002)
2002 FIBA World Championship
All-Tournament Team
3× FIBA Asian Championship MVP
(2001, 2003, 2005)
Yao Ming (born September 12, 1980) is a Chinese retired professional basketball center and Basketball executive. Ming is the currently President of the CBA, he is also President of the Chinese Basketball Association (organization). He was selected by Houston as the 1st overall pick of the 2002 NBA Draft and eventually signed with them on October 21, 2002. In his rookie season, he spoke via his interpreter and close friend, Colin Pine, although he now speaks without a translator. Yao is regarded as the most dominant player to come out of China. In July 2009, Ming bought his former team Shanghai Sharks. Standing at 7 ft 6 in (2.29 m) tall and weighing 310 pounds (141 kg), he was one of the tallest players to ever play in the NBA.
CBA career
Yao Ming debuted in the Chinese Basketball Association, as a 7'3" 17-year old. He put together a solid year for rookie, scoring 10 points and grabbing 9 rebounds a game in 1997–98. Missing much of the following season to injury, he returned in 1999–2000 with 21 points, a league-best 14 rebounds, and over 5 blocks per game. The 2000–01 season proved highly fruitful for Yao, as he became MVP of the league at the age of 20 with a fantastic year, scoring 27 points and grabbing an exceptional 19 rebounds per game.
Having been a veteran of international competition for several years, he played well in the Sydney 2000 Summer Olympics, and was a teammate of Wang Zhizhi and Mengke Bateer on the Chinese National Team where they became known as "The Walking Great Wall", but it was his MVP selection that put him in the minds of NBA scouts. However, after the CBA assured him that he would not get released from their league if he entered the draft, Yao chose not to enter the 2001 NBA Draft. This proved to be a good decision, as he played even better in 2001–02, scoring 32 points and grabbing 19 rebounds per game with a 72% field goal percentage, second in the league in both points and rebounds per game. He won a sportsmanship award and, more importantly, led his team, the Shanghai Sharks, to a CBA title over the most dominant team at the time, the Bayi Rockets. He averaged almost 40 points a game in the playoffs, including one game where he was perfect from the field, making all 21 of his field goals.
Leaving the CBA after just 5 years and 122 games, Yao left holding four records in the CBA- most dunks in a career, most blocks in a career, most blocks in a season, and most blocks in a game. All four records still stand today.
Yao played with the Chinese national team at the FIBA World Championships in Indianapolis before the 2002 NBA Draft He made the all-tournament team, after playing against stars such as Dirk Nowitzki, Peja Stojaković, and Manu Ginóbili.
Yao automatically became eligible for the NBA draft that year, with international players being eligible if they were 22 at the start of the NBA season. Widely considered a top prospect, he reportedly wowed scouts with a terrific exhibition at a draft camp. It caught the interest of the team with the number one overall draft pick, the Houston Rockets. Although there was speculation as to whether they would pick Jay Williams over Yao, in the 2002 NBA Draft, Yao became the first international player without U.S. college experience to be selected first overall.
Yao's rookie season
Despite the high hopes of the Rockets, Yao had only a mediocre preseason, and started off the season much the same. However, he began to turn things around in mid-November. In a game against the Los Angeles Lakers, he scored 20 points, making all of his shots (9 field goals and two free throws). This performance led to a memorable televised incident where TNT basketball analyst Charles Barkley, having lost a bet in which he stated Yao would never score 19 points in a game for the season, was supposed to literally kiss the buttocks of his TNT co-analyst Kenny Smith, but was forced to fulfill the bet on a donkey brought onto the TV set by Smith. Two games later, against the Rockets' in-state rival Dallas Mavericks, he scored 30 points and grabbed 16 rebounds. After that game, Yao started every other game.
As the season progressed, Yao became more and more consistent, scoring over 10 points a game each night and occasionally breaking the 20-point mark. Eventually, he was perceived as a rival to the Lakers' star center Shaquille O'Neal, turning Rockets/Lakers games into a Yao vs. Shaq matchup. O'Neal was criticized for comments he made before the season when asked about the matchups, as he told a reporter to leave Yao a message which mimicked the Chinese language. Yao merely passed it off as a "joke", although others did not think it was, and O'Neal was later forced to apologize for the comments, and praised Yao, calling him a "class act."
It was Yao's good humoredness and personality that made him a fan favorite. His likability inspired a song in the Houston area by artists Chance McClain and Kevin Ryan (loosely based on the popular "Olé" chants) and despite being just a rookie, Yao quickly became one of the league's most marketable players. He was featured in advertisements of Apple, Gatorade, and a popular Super Bowl ad for Visa, and he soon became recognizable around the globe.
In February, Yao was rewarded for his excellent play by being selected as the starting center for the Western Conference in the 2003 NBA All-Star Game in Atlanta, Georgia. Although he scored only two points and grabbed only two rebounds in 16 minutes of play, his selection proved how popular he was with fans, as he garnered more votes than established NBA stars such as Shaquille O'Neal.
O'Neal, however, has cited Yao's support from Chinese fans as the reason why he receives more All-Star votes. Despite the significant backlash against Yao, no actual figures have yet been provided to prove that Chinese fans have ever been the deciding factor in All-Star voting. In fact, for the 2004 All-Star Game, the year in which Yao won the starting spot by the smallest margin in his career, he actually received around 4,000 fewer online votes than his rival, Shaquille O'Neal. Yao managed to make up for this by outvoting O'Neal in paper balloting.
Following the All-Star break in 2003, Yao's play went downhill, as mental fatigue and physical tiredness took their toll. Despite hitting what writers the "rookie wall", Yao finished the season averaging 13.5 points and 8.2 rebounds per game, both of which were second among rookies, in addition to a rookie-class best 1.8 blocks per game.He also finished 2nd in Rookie of the Year voting, losing out to high schooler Amare Stoudemire of the Phoenix Suns.
2003-2004 season
During the NBA's offseason in 2003, Yao spent a great deal of time helping to raise money and awareness of Severe acute respiratory syndrome (SARS) in his home country. Among his efforts was a telethon he hosted, which raised $300,000 to help stop the disease.
Before the start of Yao's sophomore season, the Rockets' head coach Rudy Tomjanovich had resigned due to health issues and long time New York Knicks head coach Jeff Van Gundy was brought in. Van Gundy ran a slower offense with a higher emphasis on Yao. As a result, Yao averaged 17.5 points and 9.0 rebounds per game (both team highs), and scored a career-high 41 points against the Atlanta Hawks in February. He was voted the starting center of the 2004 NBA All-Star game for the second year in a row (once again ahead of Shaquille O'Neal). His improvement was showcased by his 16 points and 4 rebounds in 20 minutes in his second All-Star game. Yao was also instrumental in helping the Rockets claim the seventh seed in the 2003–04 Playoffs. Despite his efforts, the team was eliminated by the Lakers in the first round, as the Rockets won, only one game. Yao's averages in his first playoff series were 15 points and 7.4 rebounds a game.
2004 Olympics
During the 2004 Athens Olympics, Yao carried the Chinese flag during the opening ceremony, fulfilling his lifelong dream. He then famously vowed to abstain from shaving his beard for half a year unless the Chinese national basketball team made it into the quarter-finals. After several sub-par games in which China lost 58–83, 57–82, and 52–89 against Spain, Argentina and Italy respectively, they came back with a miraculous 67–66 win over reigning world champions Serbia and Montenegro; Yao carried the team with 27 points, and hit two free throws with less than a minute left that proved to be the winning margin. He was selected to the All-Olympics team with his dominating performance, averaging 20.7 points and 9.3 rebounds per game while shooting 55.9% from the field.
2004-2005
In 2004–05, his third season in the NBA, Yao had another impressive year, leading the Rockets along with offseason acquisition Tracy McGrady to their second straight playoff appearance. On March 11, 2005, Yao logged an impressive double-double game against the Phoenix Suns in which he scored 27 points, grabbed 22 rebounds, and blocked 5 shots. However, the Rockets were eliminated in the first round of the 2005 NBA Playoffs by the Dallas Mavericks in 7 games, during which Yao averaged 21.4 points, 7.7 rebounds, and 2.7 blocks per game, including three 30+ point games. He was voted as a Western Conference All-Star in February after shattering the record for most All-Star votes with 2,558,278, breaking Michael Jordan's previous record. This was aided by the fact that Shaquille O'Neal was traded to the Eastern Conference's Miami Heat during the offseason, but it is also a testament to Yao's rise to one of the NBA's elite. Yao's rise to stardom in the NBA can partially be credited to former NBA superstar center Patrick Ewing, who was hired by Rockets coach Jeff Van Gundy to aid Yao's development as a center.
In 2005, Yao became the subject of a documentary film, The Year of the Yao, which focuses on his NBA rookie year and his first year living in the United States his parents and Colin Pine.
2005-2006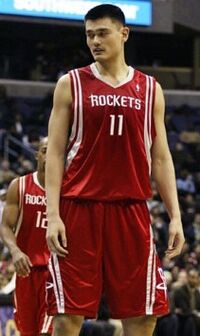 Although players his size have historically been unreliable, Yao had been very durable during his first three seasons in the NBA. He missed only two games in three years up till 2005, but, twenty-two games into his fourth season Yao was forced onto the inactive list for an extended period for the first time in his career due to an acute case of osteomyelitis in the big toe on his left foot. The toe had been giving him trouble since its nail had fallen off in the preseason, and Yao blamed Danny Fortson for aggravating it in a game against the Sonics in Seattle. On December 18, 2005, with the rest of the team staying in Los Angeles to play the Lakers, Yao returned to Houston to have surgery performed on the toe. He was placed on the inactive list and missed a total of 21 games, returning to the lineup on January 30.
After the injury, Yao became noticeably more active and agressive, and this new found agility allowed him to be more aggressive in the low block on the offensive end while avoiding foul trouble on defense. With his increased time on the court, along with his teammate Tracy McGrady's absence because of chronic back troubles, Yao became the primary option for the Rockets at the offensive end. In the 25 games after the All-Star break, Yao averaged 25.7 points and 11.6 rebounds per game, while shooting 53.7 % from the field and 87.8 % at the free throw line. His final averages in 57 games were 22.3 points and 10.2 rebounds per game. This was the first time that Yao had ended the season with a "20/10" average, and his performance when McGrady was out silenced many critics.
However, before the season ended, he suffered another major injury in a game against the Utah Jazz on April 10, 2006 - an accidental collision with opposing center Mehmet Okur left him with a broken bone in his left foot. The injury required fully 6 months of rest, which left some in doubt as to whether he would play in the 2006 FIBA World Championship. However, Yao has made rapid progress, and he carried the Chinese national team to the knockout stage of the World Championships, but was then defeated by Greece in the first round.
In the 2006 NBA All-Star game balloting, Yao again led all NBA players with 2,342,738 votes, and therefore started for the fourth straight time of his career.
NBA career highlights
4-time NBA All-Star: 2003, 2004, 2005, 2006
2-time All-NBA:
TSN NBA Rookie of the Year: 2003
NBA All-Rookie First Team: 2003
Scouting report
While not particularly athletic, his height provides an excellent method of shooting over defenders. He has an accurate jump shot as far as 20 feet (6.1 m) (he even made one 3 pointer in his rookie season and several in his CBA career) but he scores primarily within 10-12 feet (3.0 to 3.7 m) of the basket through an assortment of hook shots, turn arounds, and slam dunks. When Yao gets position in the post, he is almost indefensible; he is quick enough to get around a defender and he is tall enough to shoot over one. He is among the league leaders in free throw shooting for centers, shooting over 80% for his career. Yao's court vision and passing ability are excellent for a big man. He has great fundamentals along with a great sense of court instincts. Some specific criticisms of his game is that he is often has trouble maintaining his stamina and occasionally disappears in a game. However, Yao is considered a consummate team player, often giving up shot opportunities and passing to his teammates. His shot attempts are low compared to other elite players, but his field goal percentage is impressive: he has ranked in the top 15 in field goal percentage for three straight years.
On defense, Yao does not stay put in the paint, because his team's defensive scheme calls for him to chase offensive players on the perimeter and trap pick and rolls. The mobile defense that is demanded from Yao is believed to be a factor in his fatigue. Although he is not particularly strong nor a great leaper, his height and quickness allow him to play effective defense even against the strongest players. His underrated defense allows him to often shut down opposing players, and he consistently holds star opponents to lower than your average points a game.
Although none can argue with Yao's skills in the post and on defense, the major criticism has been his lack of aggressiveness. However, as his basketball career progresses, Yao has shown more and more evidence that he is capable of carrying a subpar team. For example, he has long been the primary offensive option of the Chinese national basketball team, and he led all scorers in points-per-game during the 2006 World Basketball Championships, while also bringing an undertalented team into the elimination round. Also, during the 2005-2006 NBA season, with star Tracy McGrady out for the season, Yao shouldered the Rockets after the All-Star break, leading the team with 26 points and 12 rebounds per game.
Allegations
In early 2006, former Newsweek editor and author Brook Larmer released Operation Yao Ming, a controversial book in which he claims that as a child Yao was forced against his will to play basketball by and for the Chinese government. In addition, Larmer alleges that Yao's father, 6-foot-10 (2.08 m) Yao Zhiyuan, and mother, 6-foot-2 (1.88 m) Fang Fengdi, both national team basketball players, were, on retirement, "encouraged" to wed, with the aim of producing an athletic if not also extremely tall future son. This allegation has yet to be supported by outside documentations or evidence and both the senior Yao and Mdm Fang have denied these allegations. A Sports Illustrated article pointed out if this were really the case, there would have been at least five Yao Mings and China would be unbeatable. In reality, Yao Ming is the only child. Yao Ming has never made mention that he was forced to play basketball.
Among other unsubstantiated allegations made in the book are the possible use of growth hormone treatment by the Chinese government on its athletes, although Yao is not explicitly named as having received any treatments. [1]. This book has come under fire from reporters and the Chinese government, due in part to the book's racist overtones and depiction of the Chinese national sports program as "Stalinistic" in nature.
External links